If the season of summer was condensed into one day, August would be the long, hot afternoon. The sunshine is still strong and bright, but something in the change of light foretells the sunset—the gentle shift from summer to fall.
At this time of year, the lush green promise of May and June bears fruit—quite literally. At the edges of our gardens, along walking trails, and edging parks and beaches, you'll see thorny brambles heavy with dark berries. Blackberries!
Considered both a blessing and a curse, blackberries are abundant on Bainbridge Island and throughout the Pacific Northwest. They're beloved by foragers and pie makers, but reviled by gardeners. They're pretty darn pertinacious—the sturdy brambles seem to grow at the speed of light and their prickles can tear through denim! And it can be disheartening to know that of the two varieties on Bainbridge Island, the trailing blackberry and the Himalayan blackberry, the latter is an invasive species.
Yet, it's such a pleasure to pick a dark, glossy berry—warm from the sun—run it under cool, cleansing water, and then pop it in our mouths, bursting with sweetness. And oh, the tarts, the pies, the cocktails, the crisps!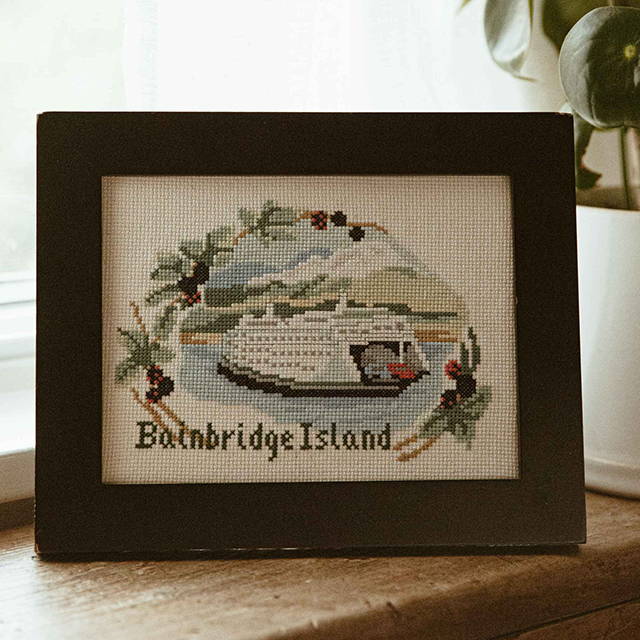 Blackberries are so prevalent on Bainbridge Island, they wind up in local artwork—one of which has been transformed into an adorable cross-stitch kit. It feels so natural to see blackberries surrounding our beloved Bainbridge Island ferry.
Our local blackberries have also inspired us, as knitters and makers. Blackberry stitch, also known as 'trinity' stitch, has a bobbly appearance (like the surface of the berry) that's nice and plump in heavier weight yarns, and has pretty, lacy clusters in lighter weight yarns. From afghan squares to kerchiefs and scarves, we've loved knitting the blackberry stitch.
That familiar, friendly texture has found its way into a couple of our cute little free patterns—the Blackberry Kerchief and an afghan square we designed for the 2018 Puget Sound LYS Tour.
Of course, we don't stop at admiring the texture of blackberries. We must eat them, too! In our Oaties Blackberry Crisp Recipe, we combine the delicious, local fruit with our favorite, crumbly biscuit from the Shortbread House of Edinburgh.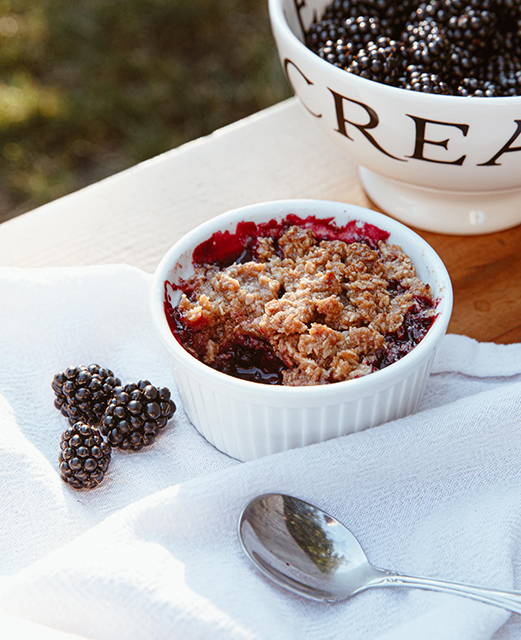 2 cups fresh or frozen berries (12 oz. bag)
¼ cup sugar
1 tbsp cornstarch
½ tsp lemon juice
1 cup crushed Oaties (about 6 cookies)
3 tbsp cold butter (cut in small pieces)
½ tsp cinnamon
Preheat oven to 375°F.
Mix the berries, sugar, cornstarch, and lemon juice together in a bowl. Divide between four individual 3 inch ramekins or fill an 8 in ovenproof dish. Put crushed Oaties and cinnamon in small bowl; work in cold butter by hand until large crumbs are formed. Sprinkle topping evenly over berries.
Place ramekins (or baking dish) on a baking sheet to catch any juice. Bake until fruit mixture is bubbly around the edges: about 30-35 minutes.
Serve warm or at room temperature with a nice mug of hot tea.