No knitting, no crochet, no special skills required!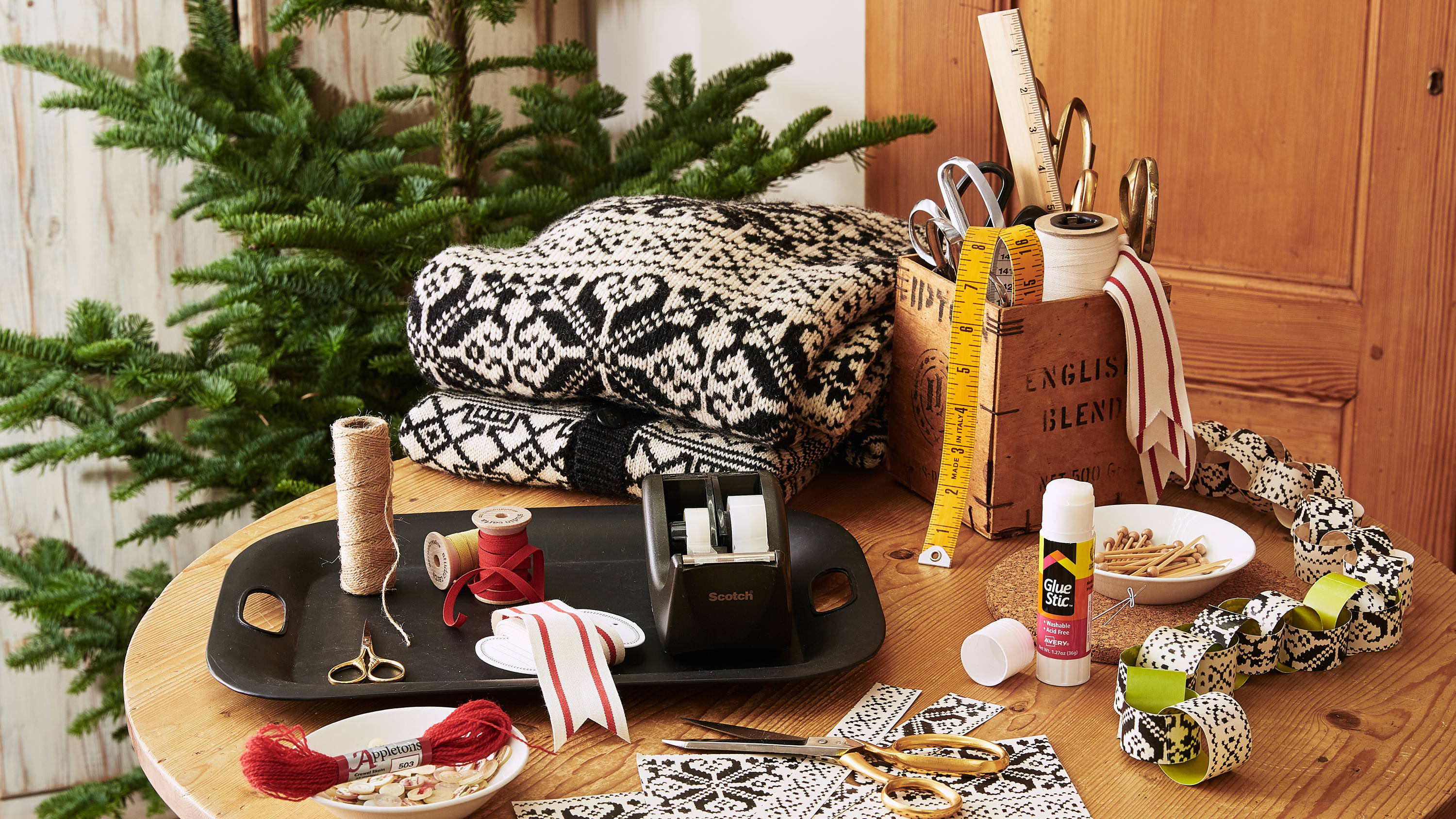 Hello. And welcome.
This is our second 'online only' holiday season since closing our brick-and-mortar store in 2020. Last year, the first year we spent Thanksgiving Day at home, was one of the rare times John and I got around to putting up a tree of our own!
After months of sheltering at home, we were in a 'less is more' mood. So we decked our tree with twinkling white lights and I tied on a blizzard of creamy cotton bows. It was one of my favorite trees of all time—simple, cheerful, and pretty.
In fact, last Christmas was so relaxed, so low key, that I wanted to hold on to some of that simplicity and ease this year. I'd like to share a few little projects using ribbon and paper that you can do at the last minute, with friends and family or in quiet moments alone. None require special skills—no knitting, no crocheting, possibly even no shopping!
Try your craft cupboard first: You can probably make do with random bits from your ribbon box, your button jar, and your gift wrap collection. (And if you're that person who always saves the gift wrap and ribbon from a present, this might just be what you've been saving it for!) But if you're going for a special look or color theme, head for your local craft, fabric, yarn, or paper store—they'll be delighted to see you.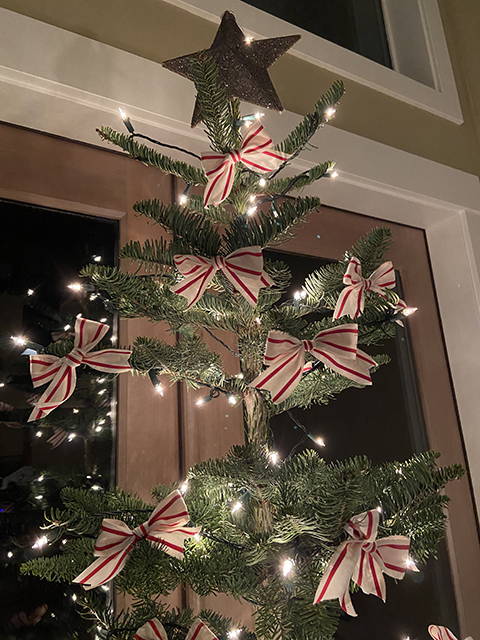 Whatever seasons you celebrate, you can put all these little ideas to use—on garlands, bunting, wreaths, as party decorations, on gift packages, on lamps and mantles... And you can make them in any color theme you like.
---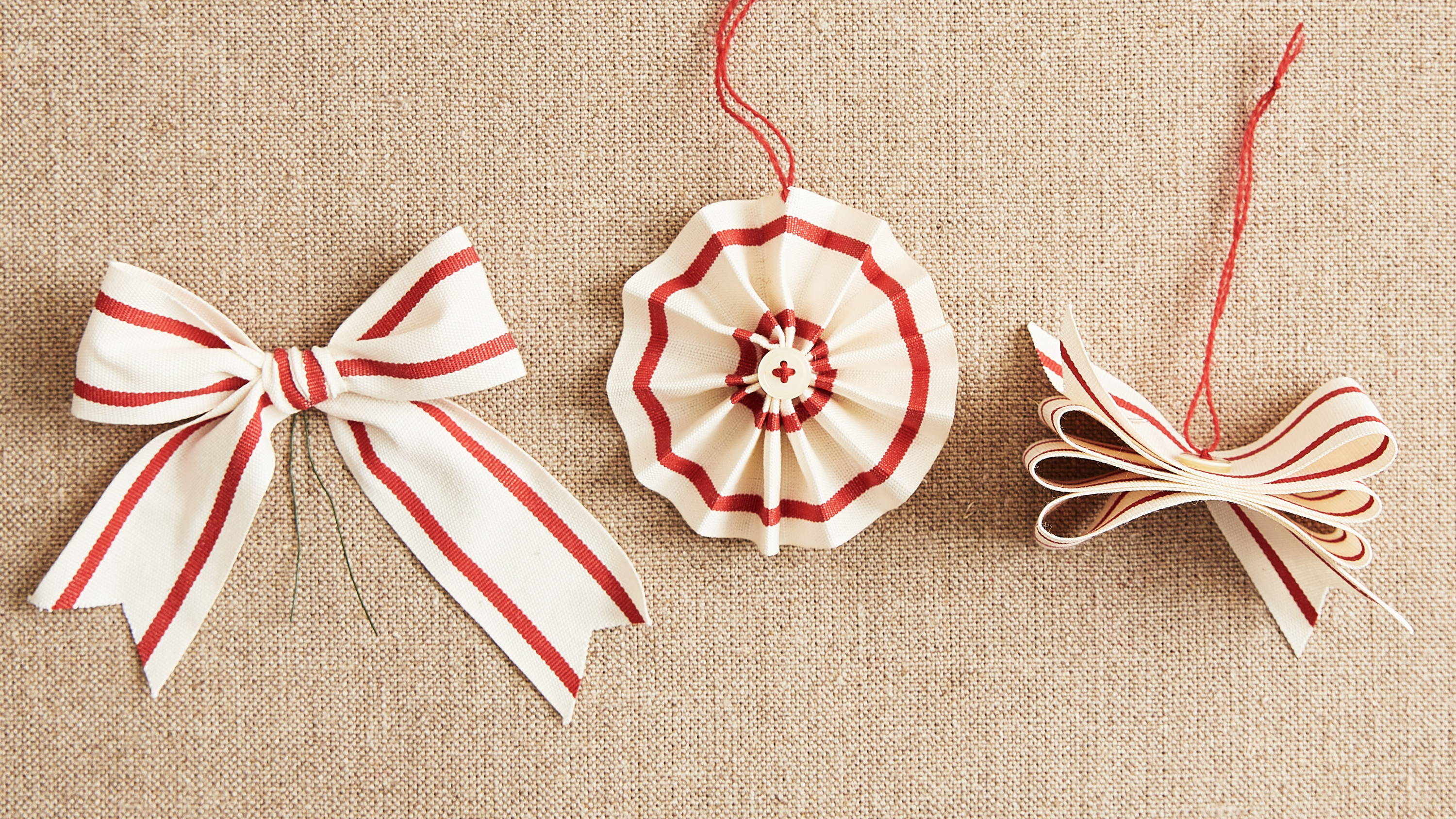 For all these little trimmings you'll use several yards/meters of ribbon that's at least 1 ½″/4cm wide. It should have a little crisp body; reversible is easier to work with. (We used a 1 ½″ cotton ribbon from Studio Carta that has cheerful, year-round charm.)
AND ALL YOUR USUAL CRAFT SUPPLIES:
sharp scissors and snips (for paper and fabric)

a fresh glue stick (double-stick tape or a small hot-glue gun might come in handy)

T-pins and paper clips (as an extra pair of hands)

a ruler or tape measure

an assortment of buttons

a sharp sewing needle and thread or fine yarn

a little light florist's wire and wire snips

oh, and of course, a cup of tea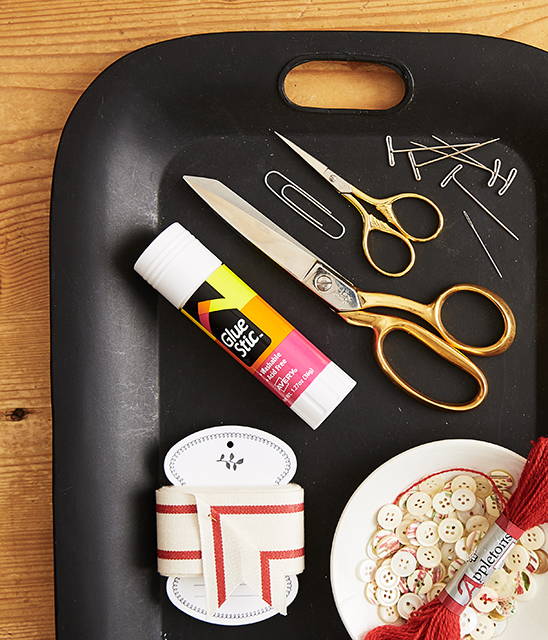 I learned this trick from a very early episode of Oprah (I'm thinking 30 years ago!?) where Martha taught Oprah how to make a perfect bow. It changed my life! The magic phrase is "two loops"—works every time. Plus it's just fun to say!
Cut 18″/46cm lengths of ribbon.

Find center and make a loop in each hand. (Fig. 1)
Tie two loops together with a regular old overhand knot. (Fig. 2)
Tighten knot. Fluff and twist loops and tails into a pretty shape. (Fig. 3)
V-clip notched ends: fold tail along length with fold at top and open edges at bottom; snip upward from edge corners toward fold. (Fig. 4)

If you want to be able to move your bows around and secure them to your tree (and not have to tie them again next year!): Slip 5″/13cm of fine wire through back of knot; poke bow into place on tree and give wires a light twist under branch.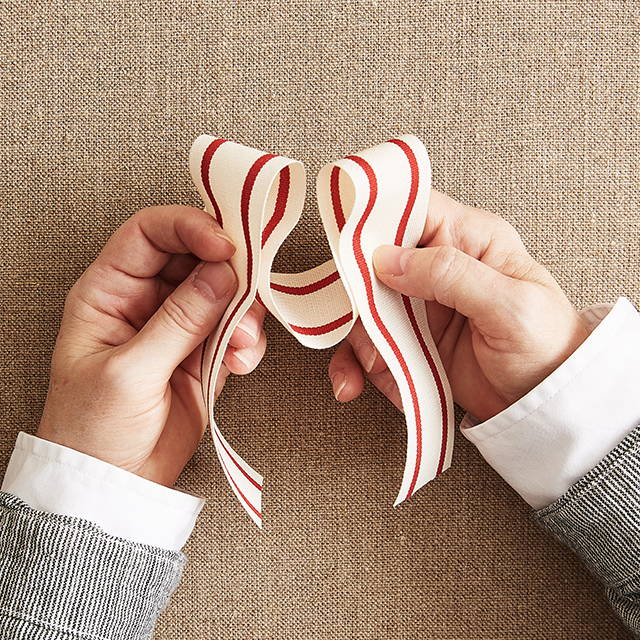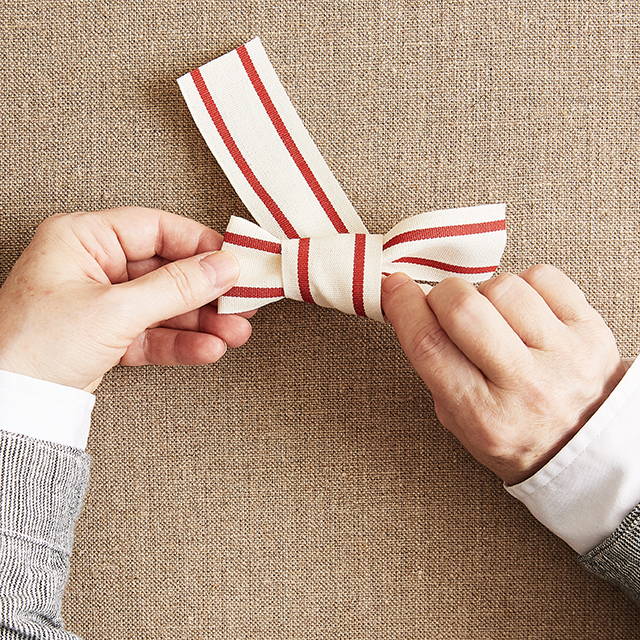 Fig 2: Tie loops together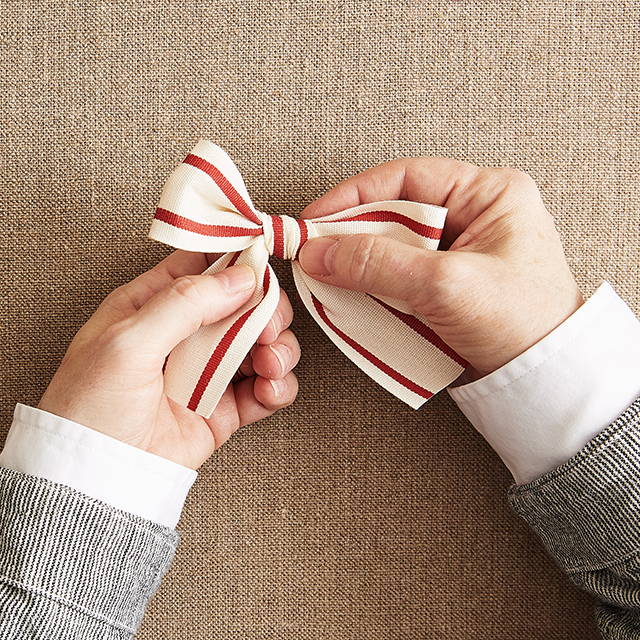 Fig. 3: Tighten knot and fluff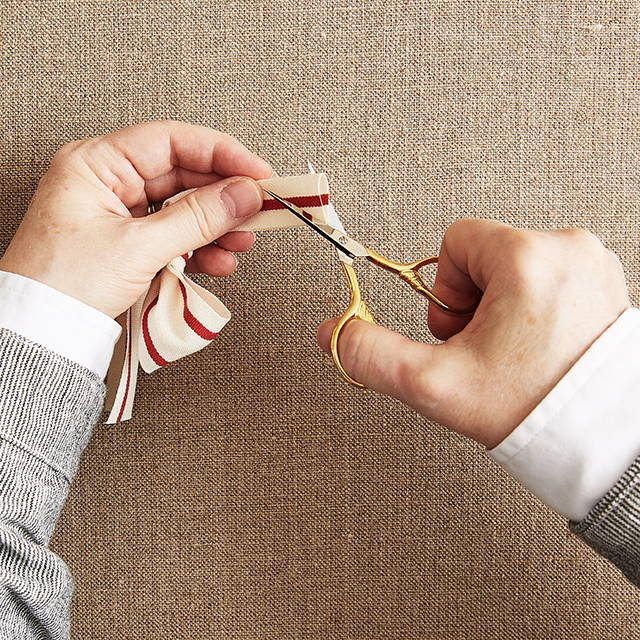 These little pretties are festive and fun on trees, packages, stockings, wreaths, and garlands. Or hang a string of them in a window, doorway, or shelf.
Cut 18″/46cm of ribbon.

Beginning at one end, make approx.

⅜

″/1.5cm deep pleats (keep as even as you can), finger-pressing as you go. To assemble, you'll need a pleat that folds upward at one end and a pleat that folds downward at the other (cut one pleat off along fold if necessary).
Fan pleats around into a circle; run glue stick along inside of one end pleat, nest the other end onto the glue and press down with fingers. (Fig. 1)

Thread needle with an 18″/46cm length of doubled thread or fine yarn.

Leaving a 9″/23cm tail of yarn, running your needle along one edge of the pleats (centered in the pleat-depth). Pull tightly into a rosette and knot thread tails together securely; don't cut. (Fig. 2)
Sandwich center of rosette between two buttons (top and bottom). Use remaining yarn tail to sew buttons together through the center; hide your little knots under the buttons. (Fig. 3) Or you could attach a button to each side with a little hot glue!

Sew a hanging loop of desired length through the two layers where you joined your rosette.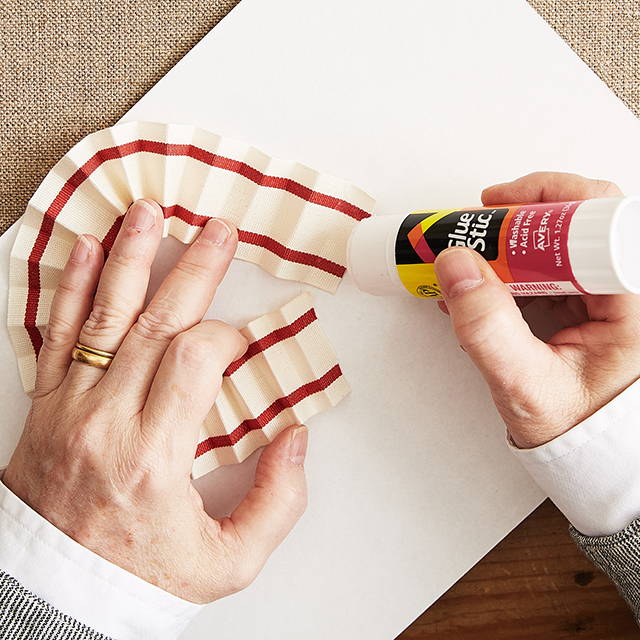 Fig. 1: Glue ends together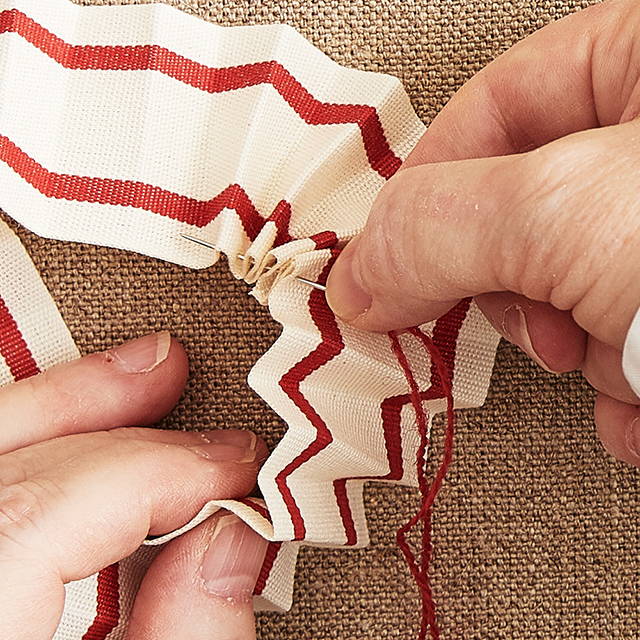 Fig. 2: Sew through ends of pleats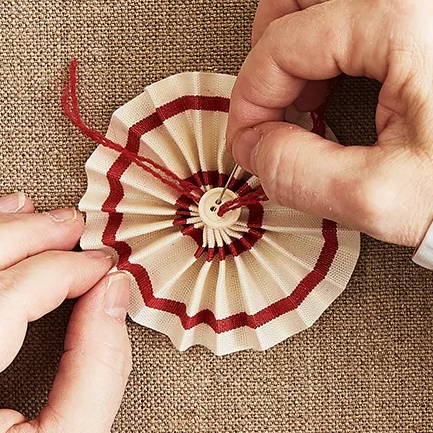 No boiling sugar! No sticky fingers!
Cut 24″/61cm of ribbon.

Starting 4″/10cm in from one end, curve ribbon back and forth every 2

½

″/6.5cm several times (you'll end with a slightly protruding tail on each side). Leave your curves soft (i.e. don't press creases). Secure at center with paper clip. (Fig. 1)
Thread your needle with 24″/61cm of thread or fine yarn (no knot); bring needle up through center of 'candy' leaving a 12″/30cm tail below. Sew through two buttons (top and bottom) several times ending on top side. (Fig. 2)

Thread needle with starting tail and bring to topside through buttons.

Tie two tails together tightly.

Tie both ends together at desired length for hanging loop. (Fig. 3)
V-clip ends of ribbon (see Step 5, Simply Perfect Bow, above).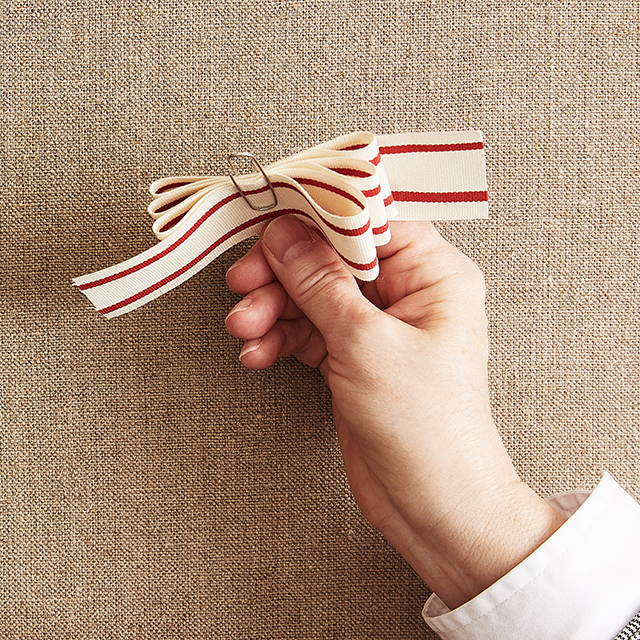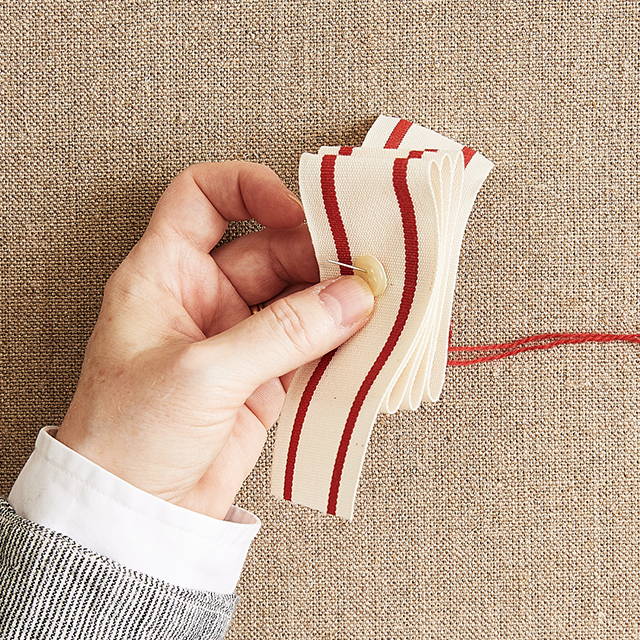 ---
We wanted to bring our love of knitting into our holiday decorating… without actually knitting! So we made knitting themed paper. You can use PDFs of our design (see Step 1 below). Or make your own: Find a favorite colorwork sweater or scarf, handmade or store-bought—check thrift stores! (You can also use any substantial stationary or gift wrap.)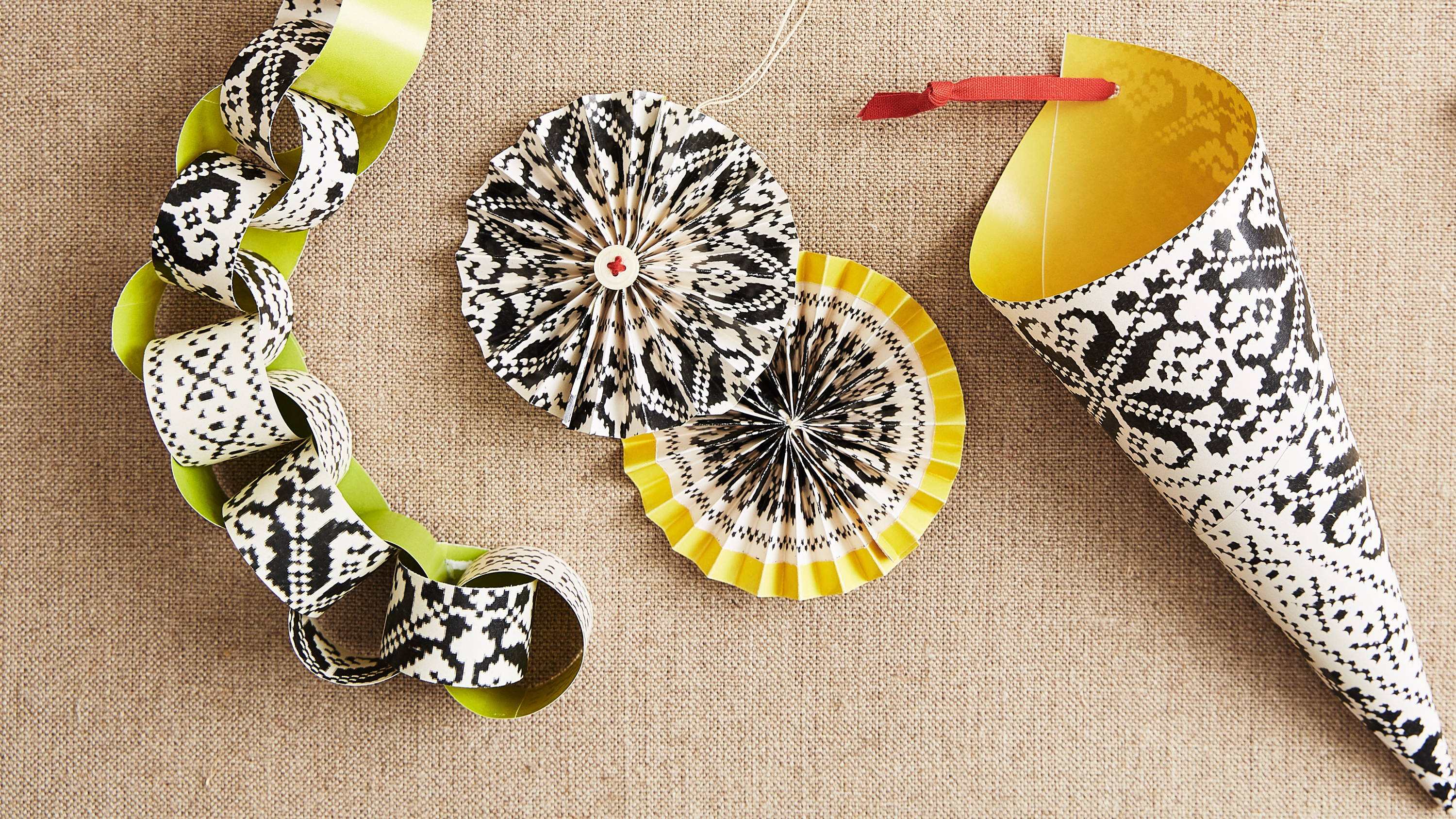 For these projects, you'll need several sheets of nice, substantial copy paper (we used 28 lb. text); access to a printer or copier (a color printer is nice but you can just print black on white for a great, graphic look).
AND ALL YOUR USUAL CRAFT SUPPLIES:
sharp paper scissors (or a sliding paper cutter, if you have one)

a fresh glue stick (double-stick tape or a small hot-glue gun might come in handy)

T-pins and paper clips (as an extra pair of hands)

a ruler or tape measure

an assortment of buttons

a sharp sewing needle and thread or fine yarn

flat waxed dental floss

a

small hole punch or sharp-tipped scissors

and of course, another cup of tea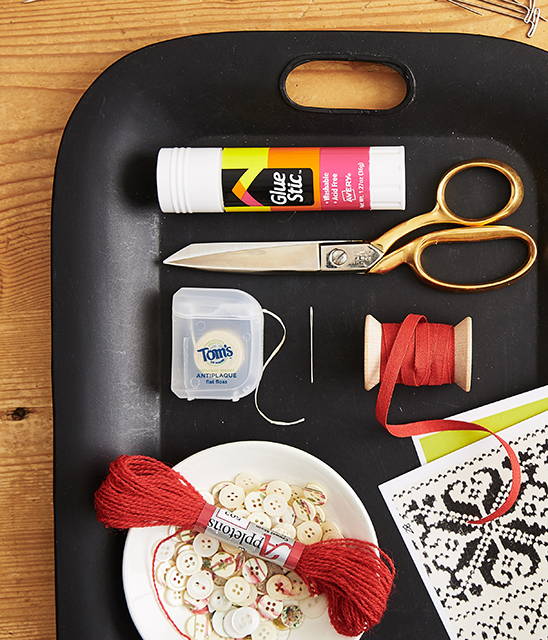 Download your PDF. For color printers, we've included a flood of color for you to print on page two; click on Cream, Green, Ochre, or Red and print two-sided. If you don't have a color printer, click on Black & White.
Or design your own: Place your knitted piece on the copier; test until you get a scale, placement, and contrast that you like. (We boosted the contrast on our pattern to make it a little more graphic.) If you only have a black and white printer, use a pattern that has high contrast (like ours); print on colored paper if you like.

Print as many sheets as you need.

Trim off all white margins (check both sides).
Here's a fun variation of the construction paper chains of my childhood. I still have a shoe box filled with Florentine gift wrap chains I made with a friend many years ago. We love festooning chains on our tree, or anywhere, really. It's so relaxing—invite your friends!
Cut each sheet

into six or seven 11″/20cm-long strips approx. 1 ¼″/3cm wide following the knitting pattern. Cut them in half across for approx. 5 ¼″/13cm lengths. (Of course, you can cut strips any size you like.)

Rub glue stick along ¼″/.5cm at end of strip. Form a ring and press to join.

(Figs. 1 & 2)

Slip next strip through last ring; repeat with glue stick.

Repeat until you have the length you want. Note: You can reverse sides, alternate colors, etc.
Fig. 2: Join and finger press
These are much the same as the rosettes we made with ribbon above, but a bit bigger. Great on the tree, packages, walls, hanging in windows…
Cut approx. 4″/10cm-wide strips of paper (they'll be approx. 11″/28cm long) so that pattern has a centered design. (For a colored edge, fold long sides inward

⅜

″/1cm to show a little of the back color on front.
Beginning at one end, make approx.

⅜

″/1cm deep pleats, finger-pressing as you go. (Fig. 1 & 2)
Mark half-way point of length along the colored edge of pleats. Make a small snip partway into the pleats; flip over and snip again into same notch (patterned pleated edge is NOT clipped). (Fig. 3)
Place a length of dental floss into the center notch. Tie securely on back side. (Fig. 4)
Open one side of pleats around into a fan; run glue stick along outside of one end, join glued end to adjacent end and press together with fingers. Repeat for other half. (Fig. 5)

If desired, glue a decoration (paper, felt, pom-pom, sticker…) onto center on both sides (we sewed on buttons, as for Ribbon Rosette).

Run a little glue along your dental floss and stick it down into a pleat on back side. (Fig. 6) T

ie to

desired length for hanging loop.
Fig. 1: Cut and pleat paper strip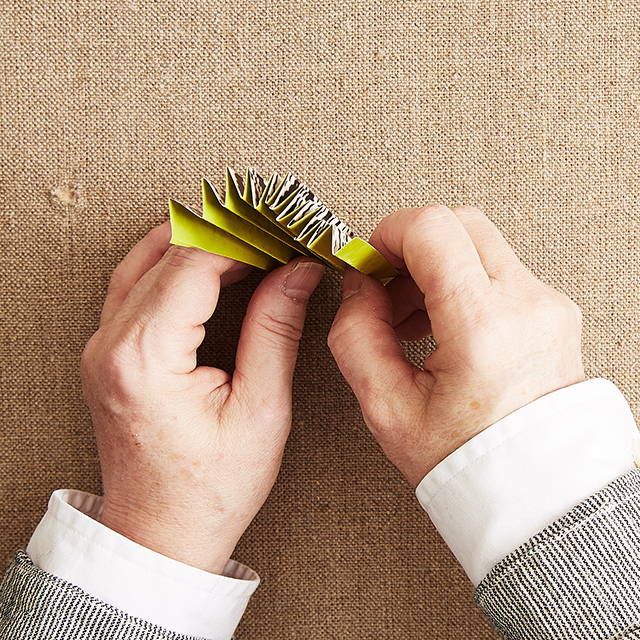 Fig. 2: Accordian pleated paper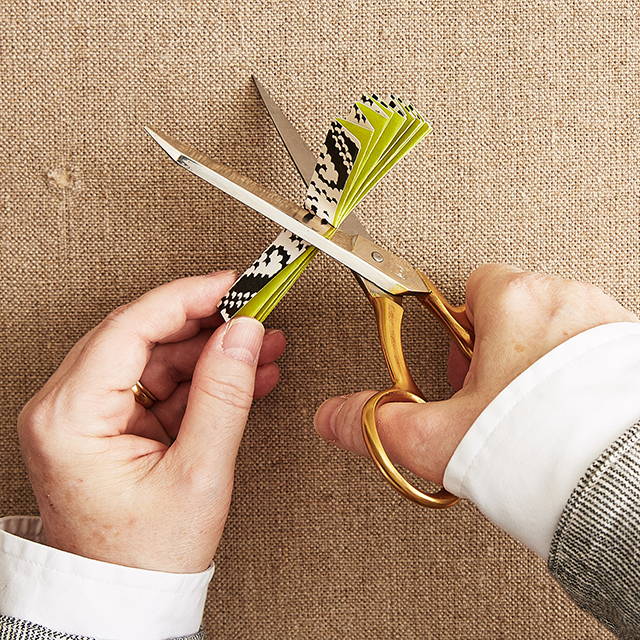 Fig. 3: Notch underside at center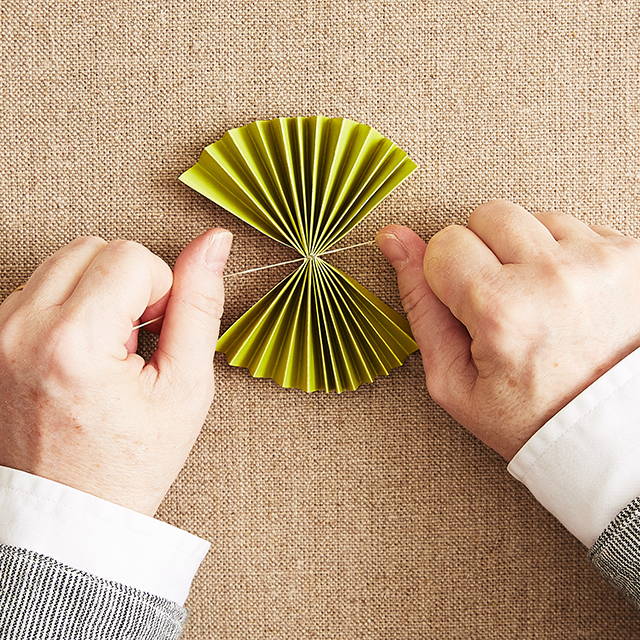 Fig. 4: Tie center securely
Fig. 5: Glue edges together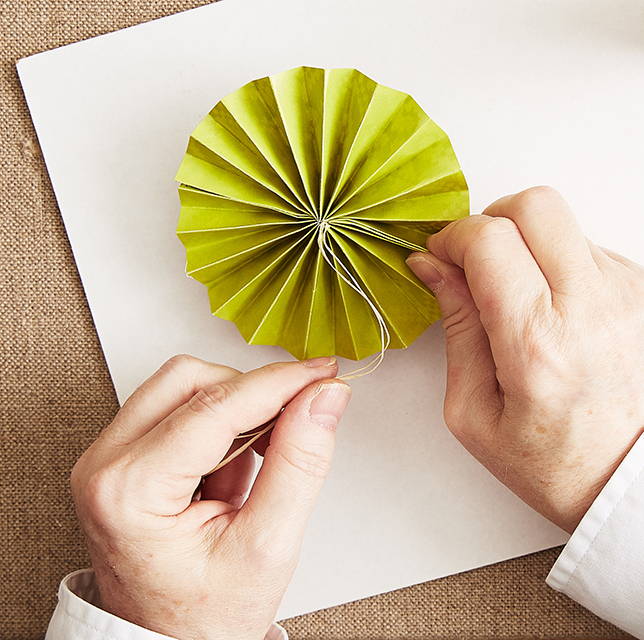 Fig. 6: Make hanging loop with dental floss
A pretty little container for small gifts and treats (perfect for a skein of yarn!). Hang them on the tree, a door knob, a bedpost…
Starting at center of long edge (or short edge, if you want a longer, narrower cone—play around a little), bring lower left corner of paper up to center and begin rolling on the diagonal into a cone. (Fig. 1)

Secure with paper clip at the open edge.

Run a line of glue stick or double-stick tape around overlapping corner; rub down to stick. (Fig. 2)
With hole punch or sharp scissor, make a hole for hanging loop; add string, narrow ribbon or yarn and tie to desired length. (Fig. 3)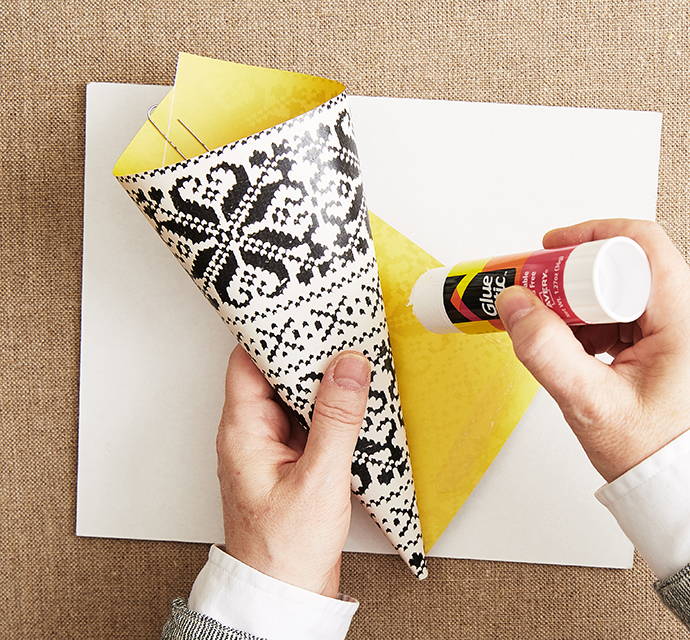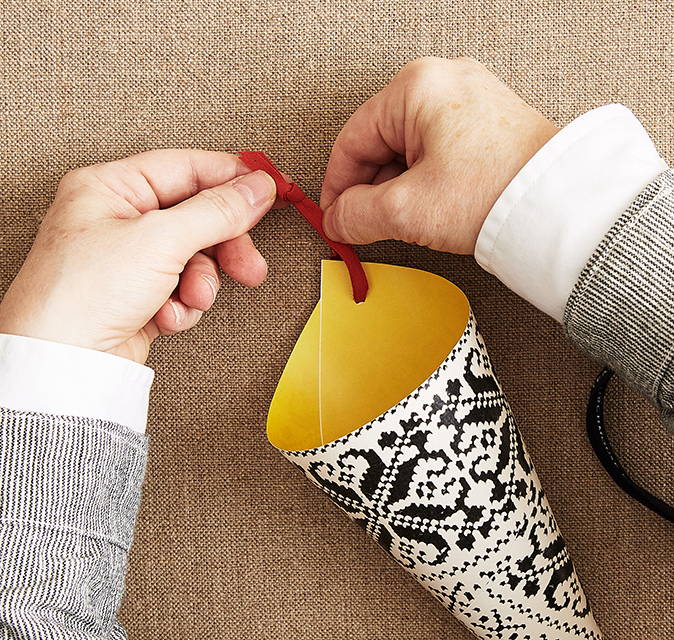 Fig. 3: Attach hanging loop
---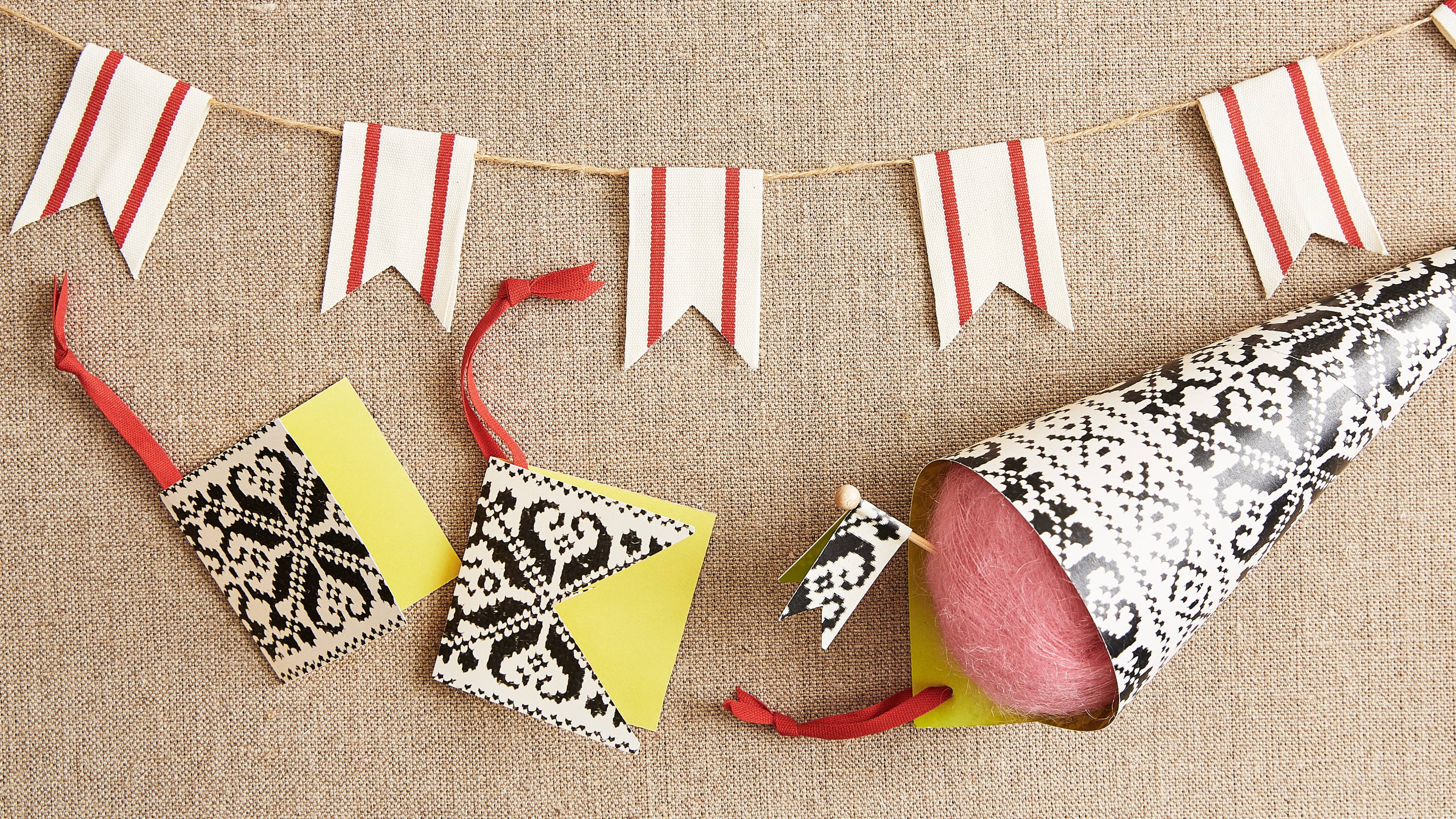 With your left-overs and offcuts, you can fly some cheery little flags along a string in a window, door frame, or across shelves (space them out and hang holiday cards between them!). Add names or messages with a fabric-safe pen. Or buttons. Or glitter. Anything you like! You can use offcuts of paper to make gift tags, bunting, or flags (also fun at the end of skewers or party picks for appetizers). Go ahead—mix your ribbon and paper projects together!
leftover pieces of ribbon or paper

string or twine

bamboo seaming pins or party picks

narrow ribbon or yarn

fabric pen, buttons, needle and thread…
Tip: When you glue your flags together over twine for hanging, avoid the middle inch so you can slide flags along the twine to desired spacing. V-clip your ends after you glue.
There! A little of everything. I hope you enjoyed making these last-minute little memories with us. You probably already know how to do most of these things, but we hope you've picked up an idea, a reminder, or a little trick or two. You've probably had a dozen ideas of your own since we started!