If you were to page through our site—say, the Churchmouse Classics garment collection—you may notice how we consistently choose to knit in neutral colors. With a few gently popping exceptions, our go-to colors are black and white and shades of grey, with perhaps a few navys and creams and linens thrown in.
We choose these quiet tones for a few reasons. First, of course, is that we love them—black and white and grey are absolutely Churchmouse comfort colors! And they're our comfort colors because they're timeless, classic, and make other accent colors stand out. When we're investing our time in a wardrobe piece, we choose trend-transcending neutrals that we'll want to wear for years and years.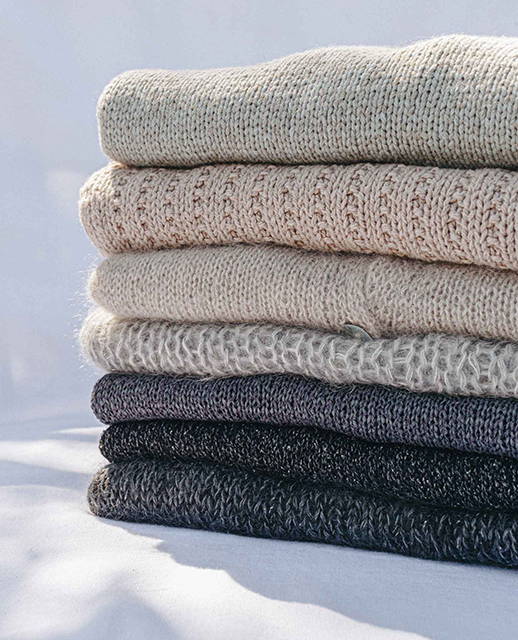 Our climate here in the rain-washed Pacific Northwest also influences our love of those quieter colors. We're used to soft, grey days for many months of the year. Somehow that gentle light gives more richness to those neutral colors.
But every so often—as the season changes, or the mood strikes—we do get the urge to venture out of our comfort zone. The misty, drizzly days can make us long for cloudless skies and pretty colors. Whether saturated or sunwashed, vibrant hues feel less loud in the spring and summer.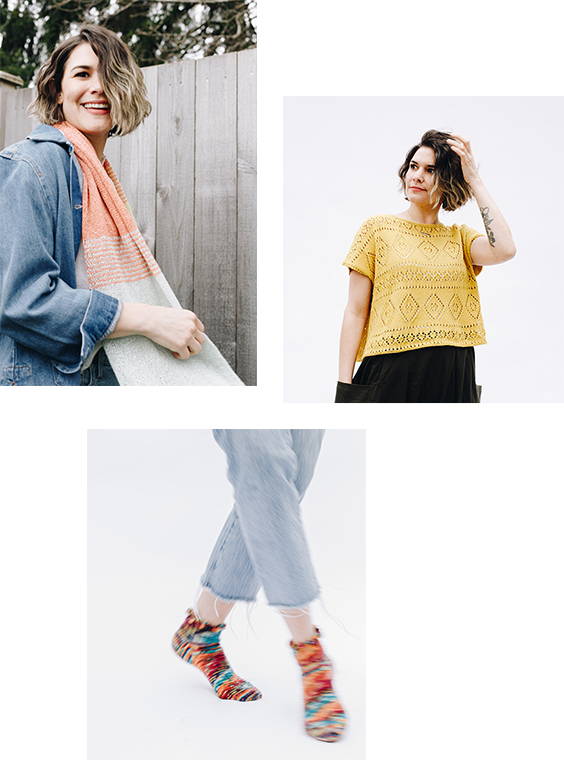 As we look to add more color to our roster of projects, we refer to Pantone for the year's color forecast. They usually present two palettes: the "core classics" are our happy place (2021's Color of the Year is 'Ultimate Grey', very Churchmouse); and yet their more playful colors work together with the neutrals in fascinating ways! Pantone's color swatches are good examples of how the core classics and the trendy shades make each other look more beautiful.
We also turn to our favorite designers, yarn dyers, and yes, our customers. You use the rainbow in so many vibrant and creative ways, we can't help but be inspired! So we add a striking scarf to our knitting list. We choose a brilliant variegation for a pair of socks. And when we're feeling really daring, we make a sweater in the most dazzling yellow we can find (2021's other Color of the Year is 'Illuminating,' a very bright yellow indeed)!
Of course, we may not be ready for that bright yellow sweater right away—especially if we're emerging from a long winter's nap or a bout of April showers. Even on the sunniest days, those vivid colors make us feel a little shy. And if you feel the same way, we can tell you that we like to start small, then work our way up to bold!
Adding Color, Step by Step

To draw an analogy from nature, we think of our hand-knit garments as a landscape, while our hand-knit accessories are a garden. The landscape doesn't change too much from season to season, but garden flowers do! So when we venture into the pretty, playful side of the spectrum, it's usually with little projects like scarves and hats and bags and socks.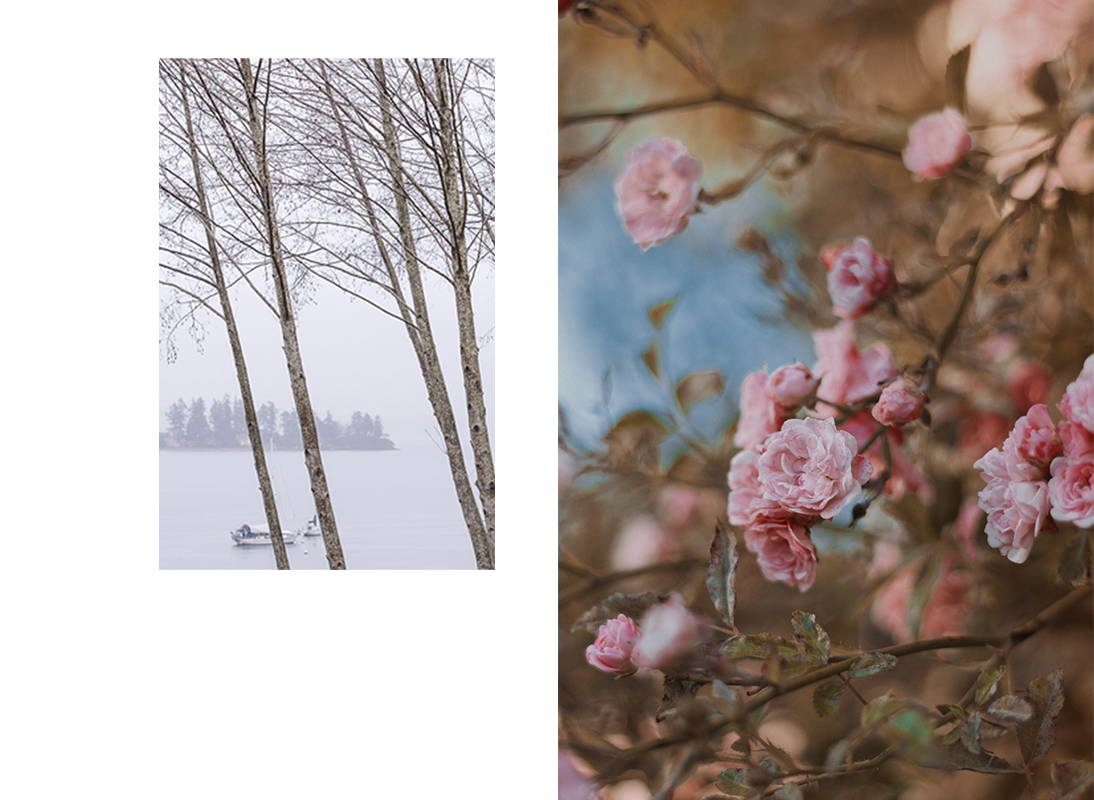 In fact, if you're just dipping your toes into wearing more color, why not start there? With your toes, we mean! Colorful socks are a great way to use those fantastic, variegated, hand-dyed yarns that you can't quite envision as a bigger piece. And, if you're hesitant to wear bright colors in a more obvious spot, socks can be a fun little secret in your shoes.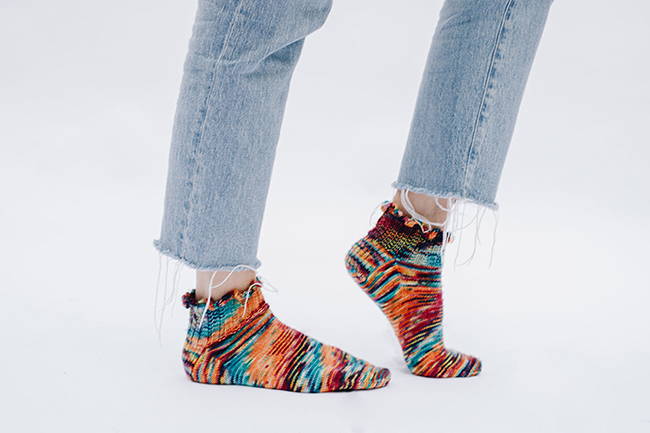 When you're ready to take the next step, try a wee kerchief in a solid, vivid shade. A small triangle or square scarf can tuck inside the collar of a jacket for a hint of color. And if you wear it over a tee or blouse, the cute size keeps it to just a little splash!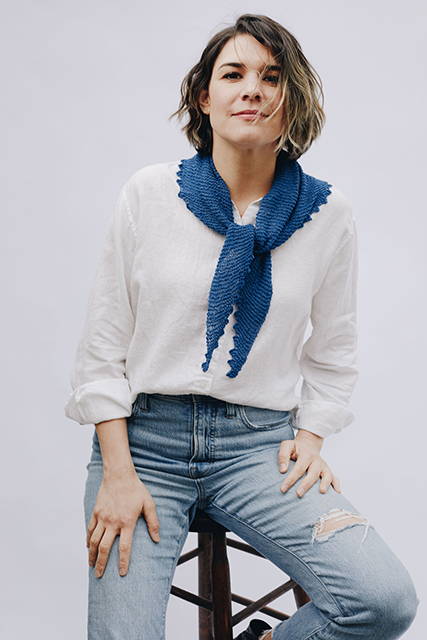 Scaling up the piece is a great way to turn a suggestion of color into a stronger statement. A long wrap that drapes over your shoulders can be stylish and eye-catching in any hue. And if you like, an interesting, textured stitch pattern can temper a big swath of color.
Once you get used to a bigger dash of color, why not try mixing a few together? Color-blocks, stripes, and colorwork are a great way to add a pop to your wardrobe. Whether you go with soft washes, super-saturated solids, or gentle neutrals with one flash of color, blocks and stripes are a great way to play around and see how different shades can work together.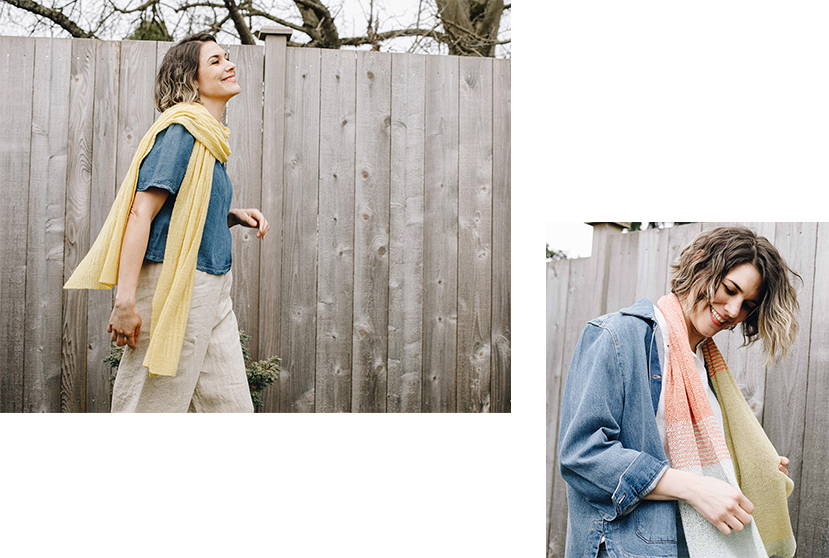 And then, when you're really ready to embrace the vibrance and knit a whole garment in a pretty, happy color, why not choose a piece that's seasonal and quick-to-knit? Try a lacy little tee, a cropped sweater, a sleeveless top, or something with an open stitch!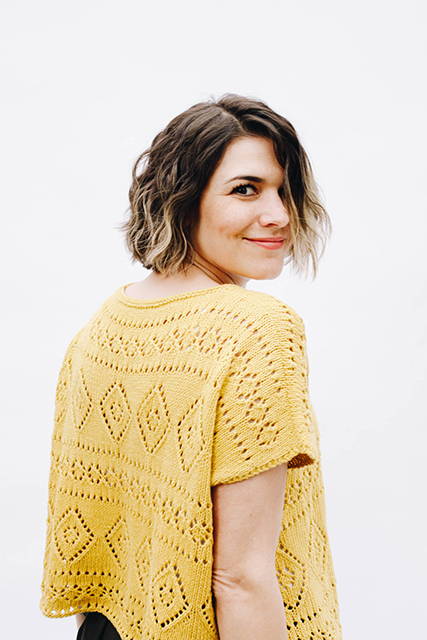 If you already love lots of color, you know what to do. If you love neutrals, but think you may be ready for an adventure, we just want you to have fun! To us, hand-knit accessories and garments are a source of happiness and comfort. Even if we prefer to wear quieter tones ourselves, we still have a blast knitting for our color-loving friends. So knit to wear and share with whatever colors make you smile, in whatever amount you like—a little splash or a rainbow from head to toe.