Cotton is the most widely used natural fiber in the world. So of course it has found its way into some of our favorite hand-knit and crocheted pieces! It's really rather miraculous—an unassuming shrub blooms, yellow petals give way to a little brown casing (called a 'boll'), which then pops open to reveal little puffs of fluffy goodness!
Cotton is a staple fiber composed of cellulose. That, to be a little less sciency, is plant stuff that doesn't dissolve. It also happens to have fibers of varying lengths (depending on the type) that can be spun into some pretty great yarn! By its very nature, cotton is breathable, durable, absorbent, and suuuper soft. (Its micron count, or the diameter of the fiber, can range from 11 to 22 microns. For comparison, cashmere is generally between 15 and 19 microns. A lower number means a finer diameter and a softer yarn.) Just the thing we'd choose for everyday use! And really, cotton is in so many everyday items: t-shirts, bed sheets, towels, blankets, jeans, flannel, underwear—you get the picture.
As knitters and crocheters, cotton is just as precious to us. Its breathability and durability is especially great for warm-weather accessories and garments, homey things like washcloths, and baby pieces that we'd like to be able to wash. It's a fantastic, fluffy alternative for those of us who are sensitive to wool—especially if the yarn has been constructed to be lofty. And it invariably takes dye well! Thanks to its natural absorbency, cotton soaks in color like a dream, resulting in deeply saturated shades. (Things get even more interesting when cotton is blended with other fibers which take dye a little differently. When that happens, it can bring an intriguing, heathered touch to the color of your knit or crocheted fabric.)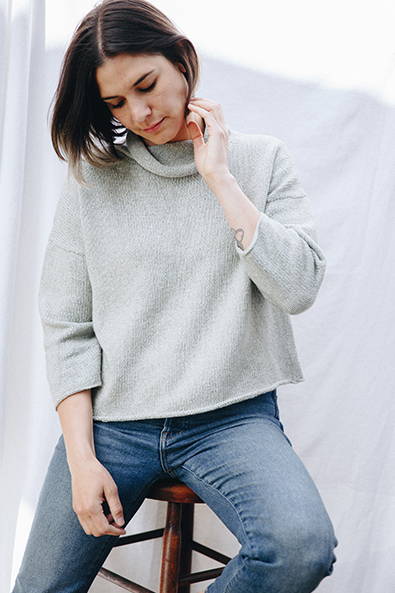 A lot of yarn makers have gotten pretty clever with their cotton yarn engineering. It's a pretty malleable fiber, and so it can be shaped into a variety of versatile strands! We've used and loved sleek, mercerized cotton yarn—which has been treated with a technique that leaves it stronger, silkier, and a little shinier than the regular fare. We've used and loved cotton yarn with a chainette-style strand—often mercerized, always strong and pliable. We've used and loved tape or ribbon-like cotton—pressed into paper-thin strands, the texture is absolutely captivating. And we've used and loved bulky, twisted strands of poofy cotton—with a matte finish and just the right amount of cuddle and squish.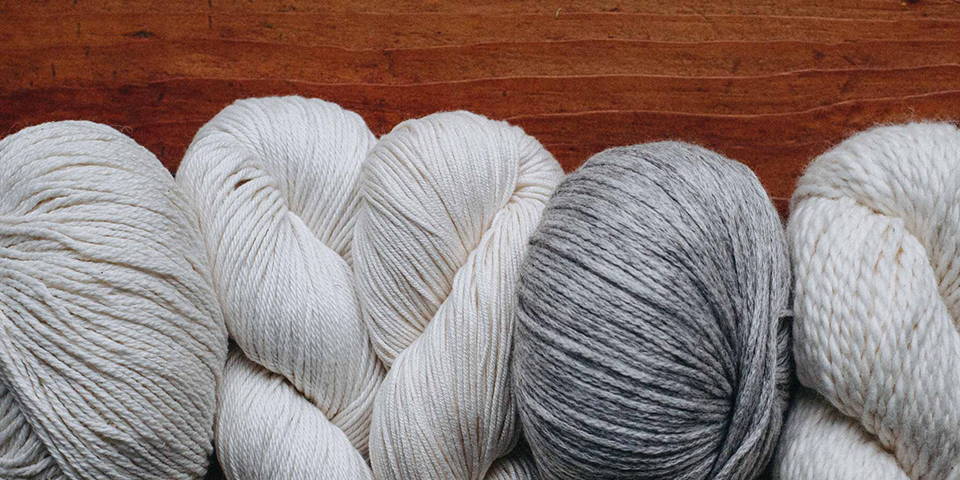 ---
It's a source of constant wonderment to see how differently each of these yarn-making methods can make cotton appear and feel. To illustrate, let's compare Rowan Handknit Cotton (a worsted-weight, 100% cotton yarn) to Blue Sky Fibers Organic Cotton Worsted (another worsted-weight, 100% cotton yarn).
In Handknit Cotton, the plies of fiber are tightly spun together for a dense, smooth strand that's cool to the touch. On the other hand, Organic Cotton Worsted has a loose, 2-ply twist that lets in a bit of airy bounce.
These two yarns have the same gauge, same fiber composition, and yet have wildly disparate behaviors, so we use them for different projects. Handknit Cotton is a great workhorse yarn that we love for sturdy crochet projects. Organic Cotton Worsted is ultra soft and fluffy, so we use it to make sweaters and blankets and fun baby things.
We even treat the finished objects differently: we happily throw Handknit Cotton into the washing machine; Organic Cotton Worsted is happiest when we wash it by hand.
TIPS FOR MAKING WITH COTTON
Unlike wool or other animal fibers, cotton tends to be inelastic—it doesn't have a lot of stretch, bounce, or give. For knitters and crocheters who are used to the stretchiness of wool, making with cotton can be a bit of a challenge. Not only does the inelasticity make it hard to maintain an even tension in your work, it can also strain your hands. We always recommend that you test out a new yarn by knitting a swatch—you can learn how the yarn behaves and how it feels in your hands. If you're substituting cotton yarn for wool or a wool blend, you may find that you will have to go down a needle size or two due to the inelasticity of the yarn. Always swatch to be sure! We also encourage you to take frequent breaks. Your hands will appreciate the rest!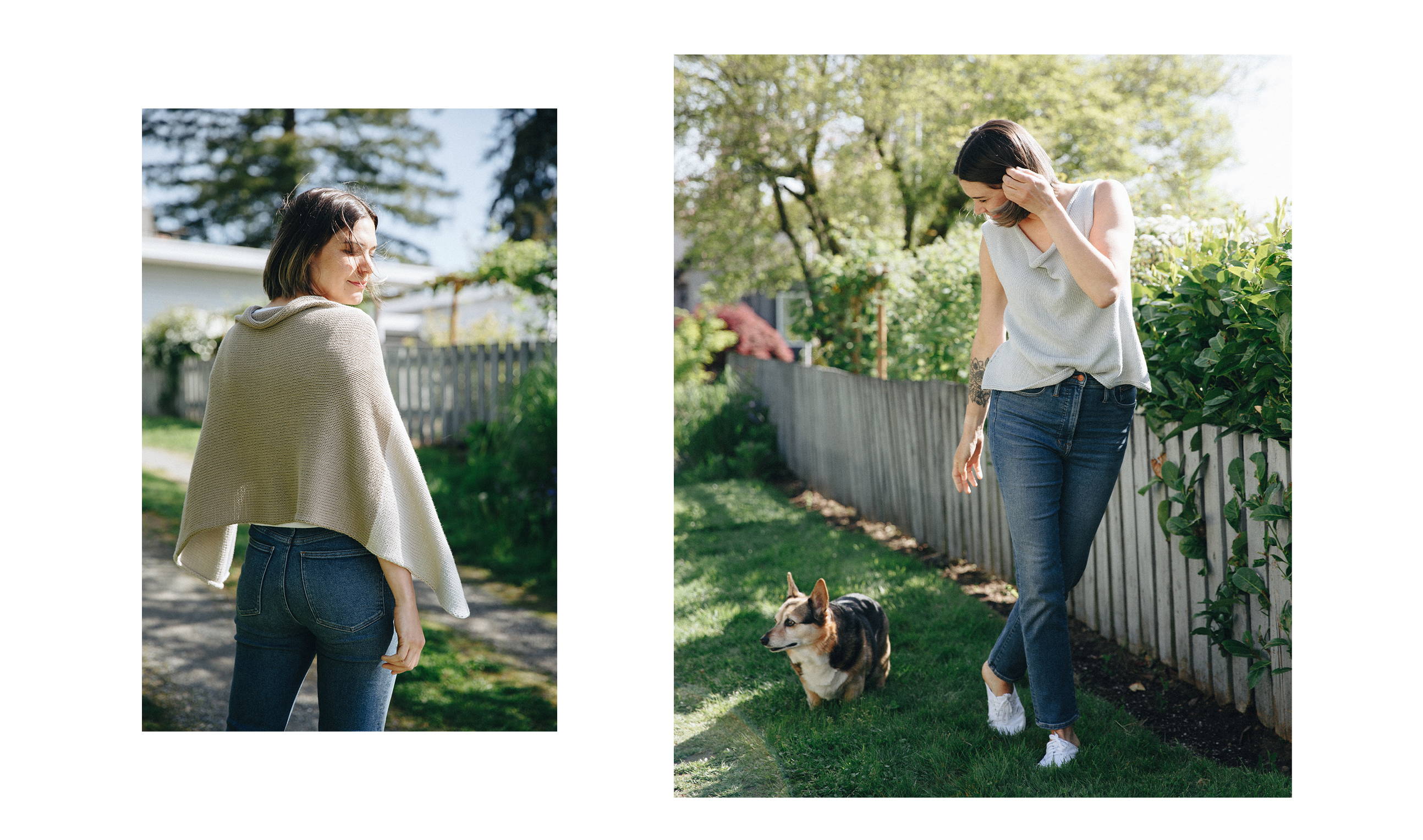 First and foremost, we recommend that you read your yarn's label for care instructions. Depending on the stitch, gauge, or weight of your finished project, you may notice that your finished piece can stretch over time. It's best not to hang handknit cotton garments to store—instead fold or roll them up. If your garment does end up stretching, you can always re-block to get it back into shape! Take care when you wet-block, though. Cotton absorbs a lot of water and can become very heavy. When it comes time to pull your piece out of its soak, support the full weight so it doesn't overstretch and lose its shape. Cotton also has a tendency to grow when wet-blocked. You can squish it back into shape pretty easily, but always give your swatch a chance to rest completely so you know how the finished fabric will behave. If you treat your cotton pieces with care, they're sure to last and last.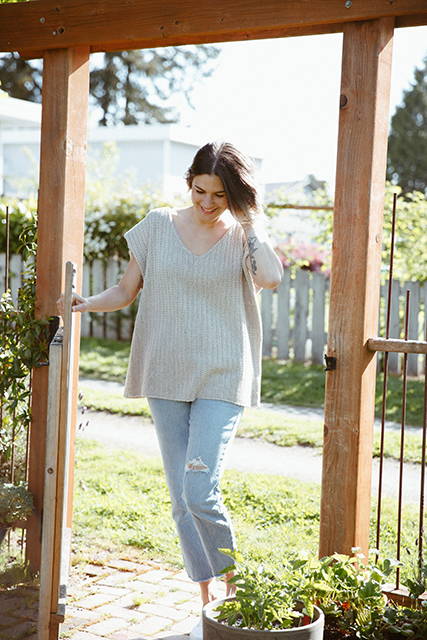 And just as cotton is ever present in our wardrobes and linen closets, it has an utterly secure place on the Churchmouse shelves and in our knitting baskets! Take a look below to see some of our favorite cotton and cotton blend yarns:
---