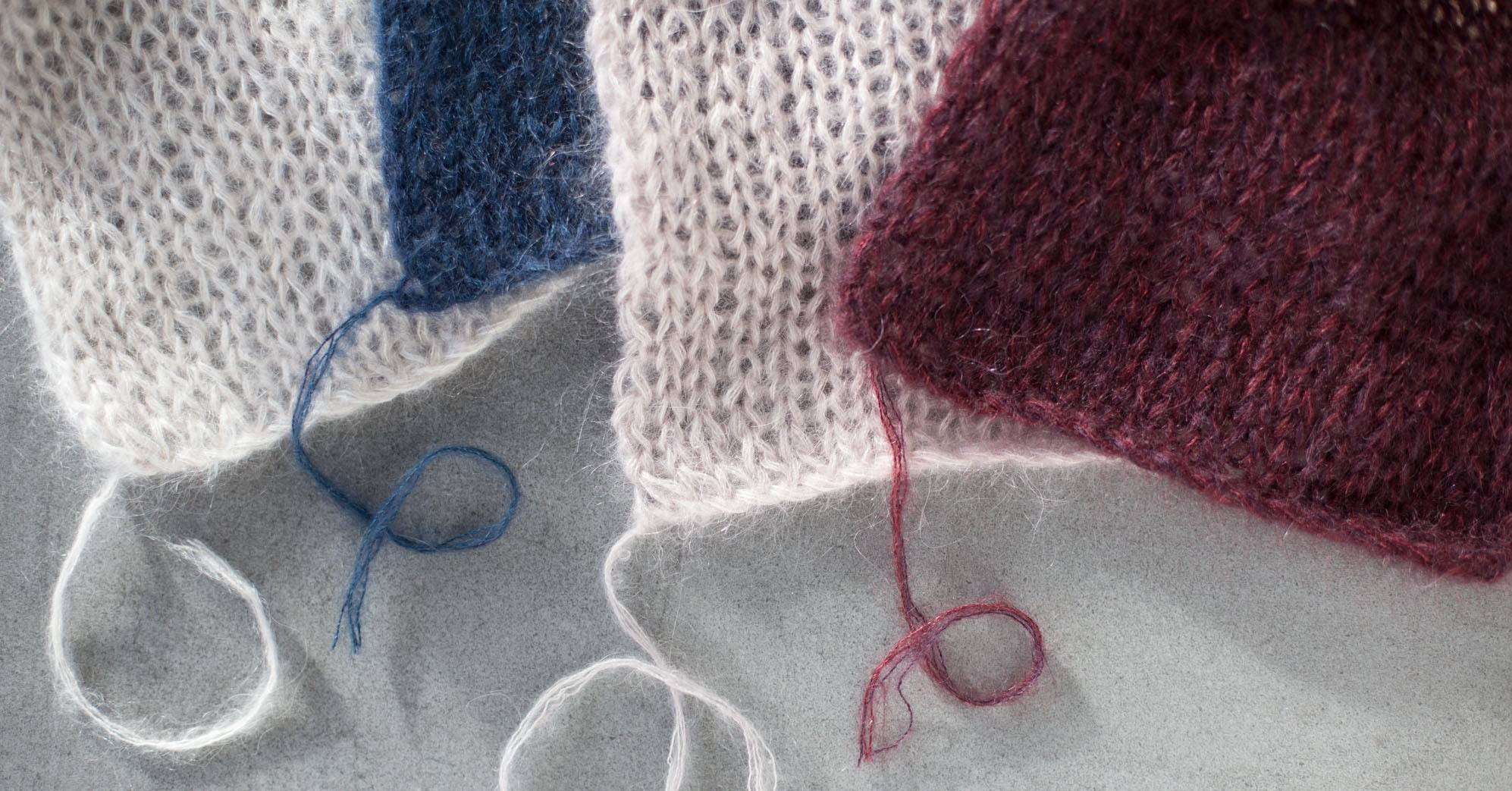 Once you pick out a new project—and make sure it's one you'll really love working on—the very first thing you should do is swatch. Think of it as 'dating' a project before you commit!
Swatching will help:
Ensure your piece turns out the intended size.
Ensure your fabric has the desired hand or drape (i.e. not too dense and stiff, nor too sheer and floppy).
Vet finishing techniques and how to launder your new item.
Vet the pleasure factor—are you enjoying this yarn? With this needle? In this stitch pattern?
You'll need: a pencil, our Design Swatching Worksheet, tape measure, swatching wires, T-pins, and a blocking or ironing board.
Swatching Guidelines
Expect to swatch at least three times—maybe even more! We prefer to begin with the e-loop cast on (named for its resemblance to a lowercase, cursive 'e' and also known as the single, simple, wrap, or backward loop) and to end with sewn e-loop bind off—they're stretchy, neutral, and will not effect the gauge of your swatch.
Cast on using the e-loop finger method:
Make a slipknot, using the tail (not the working yarn, the strand going to the yarn ball) to make the loop that will sit on your needle. This way you can tighten it up later.
Hold working yarn in right hand with a little tension.
Dive right index finger over working strand and bring finger up in front (using the same motion as if you were scooping up a bit of frosting for a taste) creating a loop around finger.
Insert needle tip up under loop.
Let loop slide off your finger and gently tighten on needle.
Repeat 2-4 until you've cast on desired number of stitches—enough to yield an approximately 6″ wide swatch (or 8″ if you need more information).
Note: in the e-loop finger method above the strand on top slants to the left; with the more common e-loop thumb method, the strand on top slants to the right.
Be sure you have enough stitches to work complete repeats of your stitch pattern. Work all stitches in pattern (with no garter or slipped stitch edges, as these may influence your row gauge) for approximately 6″ (or 8″). End with a wrong side (WS) row and note the number of rows worked. Leave a tail that's long enough to wrap around your needle as many times as you have stitches, plus 8″—this leaves enough for binding off.
To bind off using the sewn e-loop method:
Thread tail in darning needle.
With right side (RS) facing, insert darning needle KNITWISE through the second stitch on left needle, under the needle from front to back. Pull through, leaving a little slack.
Insert darning needle PURLWISE through first stitch. Pull through, leaving a little slack. Let stitch off the needle.
Repeat Steps 2 and 3 until one stitch remains. Slip last stitch KNITWISE, pull through, and let off the needle.

Step 1: Take the number of stitches per inch specified in your pattern and multiply by 6. This calculates the approximate number of stitches needed for a 6″/15 cm-wide swatch. Following the swatching guidelines, cast on loosely. Work your swatch in your specified stitch pattern for 6″/15 cm, then bind off loosely.
While gauge is sometimes given as 'stitches per inch,' we measure gauge over 4″/10cm—even a quarter stitch that may not show up over 1″ will reveal itself over 4″. This tiny difference can add up to inches, resulting in a piece that doesn't fit or that you don't like!
To measure stitch gauge, place pins 4″/10cm apart across a row mid swatch. Do NOT include edge stitches—they are never quite true.
Step 2: Count the stitches between pins. (In our stockinette stitch example, each 'V' is one stitch. This includes both 'legs' of each loop.) To measure row gauge, place pins 4″/10cm apart along vertical columns of stitches mid-swatch. Count the rows between pins (each 'V' is a stitch in one row).
Poking a needle tip into each stitch can help you see while you count.
Measure in several places, jot down the results, and take the average. This is especially important when using thick-and-thin or highly textured yarns. Note your pre-blocked gauge so you can keep your eye on your gauge while knitting.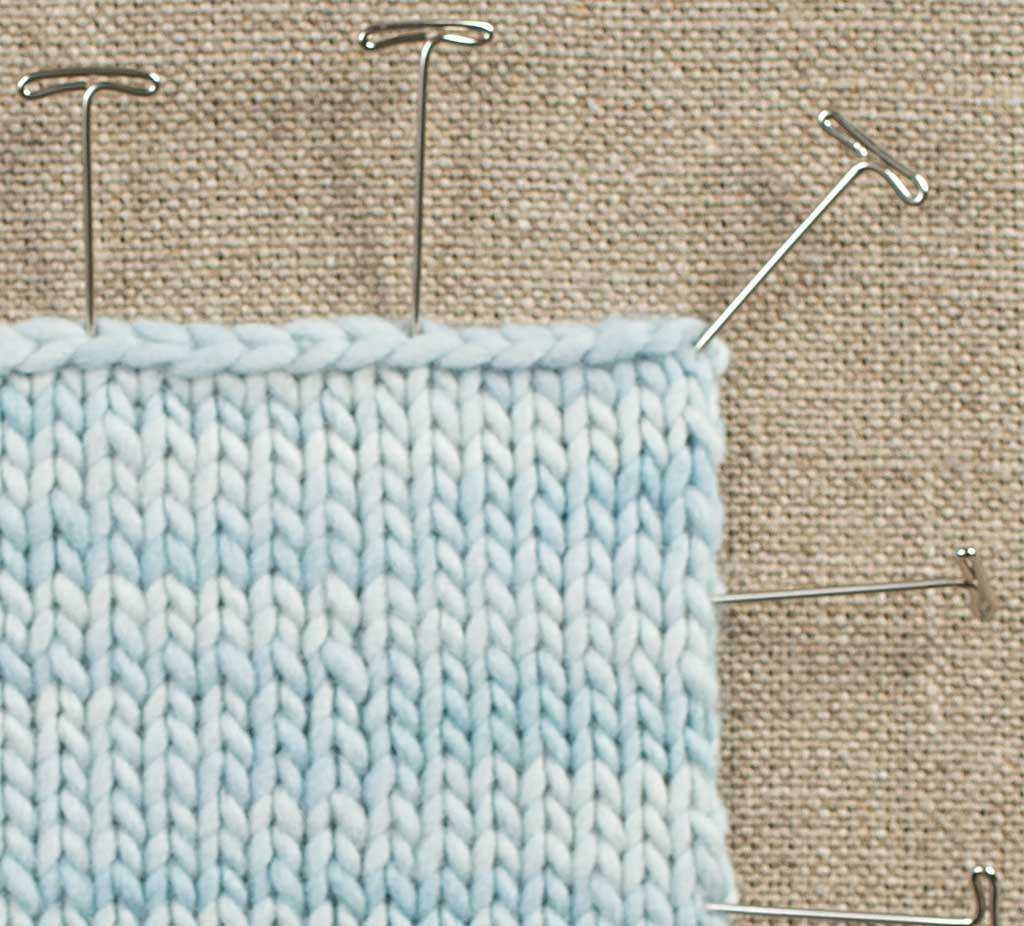 Step 3: Now, process your swatch in the same way you will care for your finished project, and then let it rest. Measure your swatch and then compare to your pre-blocked gauge—has the gauge changed?
If you have too many stitches or rows per inch, your stitches are too small or tight. Try re-swatching on a larger needle. If you have too few stitches or rows per inch, your stitches are too large or loose. Re-swatch on a smaller needle. Sometimes, even a different type of needle can make a difference (i.e. using wood instead of metal or vice versa).
Keep re-swatching until your blocked gauge is just right and you have the fabric that you like!
---
---
Swatching for Fabric
While a primary focus of swatching is getting your stitch and row gauge just right, it's also important to think of your knitting as making fabric. Your swatch will allow you to make sure you're creating a fabric that you like and that's appropriate for your project.
In our Churchmouse Classics patterns, we usually tell you why we chose the yarn we did, and what sort of fabric you're aiming for—dense, structured, loose, sheer—so you can make smart substitutions.
To really get a feel for a fabric, make nice, big swatches (we like at least 6-8″ square). We recommend that you block and steam press your swatches, aiming for the desired gauge. Let dry thoroughly. Then see what happens when you let them rest.
If the fabric is slippery or has weight, hang your swatch for a while and see if it changes. All this will give you a sense of how your finished piece will behave. Soft fabrics can be less stable than springy, resilient fabrics. This means they may need to be laundered and re-blocked more often to retain their correct size.
Yarns that have a soft drape tend to change considerably after wet-blocking. Instead of measuring for length right off the needles (it's going to change!), establish your blocked and rested row gauge from your swatch. Multiply the rows per inch/cm by your desired length, and knit to that number of rows, no matter what it measures. Then, block the finished piece to your desired length—this will give you the correct final size after finishing.
Wet Blocking
For any project you'll be washing later, be sure to wet block your swatch. Depending on your yarn's fiber content, its fabric can change dramatically after wet blocking. You can also use wet blocking to help you open up your gauge if it's falling somewhere between whole numbers.
Soak your swatch for 15-20 minutes in cool water with a little no-rinse wool wash. Squeeze gently (do not wring) to remove as much water as possible. Roll in towels and squeeze gently until damp-dry. Lay your swatch flat and pin to desired dimensions. Use swatching wires or place pins frequently enough to prevent scalloping at edges. Allow your swatch to dry thoroughly.

What If I Can't Get Gauge?
We often find ourselves betwixt and between a too-tight gauge or a too-loose gauge. Or we are able to get stitch gauge, but not row gauge. Now what?
If you're even half a stitch off over 4″, your finished garment may be several inches large or smaller than intended. In some styles, that might mean the difference between Small and Large. You'll have spend a lot of time and money on a sweater you'll never wear!
If your gauge is falling somewhere between whole numbers, you may be able to open up (or loosen) the gauge a little in the blocking—pin the swatch so that it is forced into stitch and row gauge. You won't know whether this blocked gauge will hold until you've rested your swatch.
Note: As you stretch your swatch from side to side, it will shorten. As you stretch your swatch in length, it will narrow. You really can't force your fabric to a tighter gauge in blocking.
In most cases, we think it's more important to get stitch gauge than row gauge—it determines body fit. Your row gauge will effect body length, sleeve and armhole length, and neck depth, but you can adjust the number of rows you knit to correct for this. Most Churchmouse Classics garments patterns will tell you how.
Note: For pieces knit side-to-side, the opposite will be true.
And if the yarn you've chosen just doesn't work for your pattern, try a different yarn. If you love the fabric, perhaps a different pattern.
Embark on the swatching process with curiosity and patience—a little time now can save you hundreds of hours (not to mention dollars) later. Swatching is the best way to gain an understanding of your own knitting style, how your yarn interacts with your stitch pattern, and how your piece will turn out after blocking. Plus, it's a great way to gain confidence in your work from the beginning of your knitting adventure!