Fall is a favorite season for so many of us. The crisp scent in the air, the bright change and slow fade of leaves, the swifter sunsets—they're each a cue, a beacon, a sign. It's wool season! Cozy-up-and-knit season! Both-hands-around-a-hot-cuppa season! We can't wait to put on the kettle, settle into a comfy chair, listen to the gentle autumn rain, and pick up our needles or hook. Just what are we making this fall? Well, let's see . . .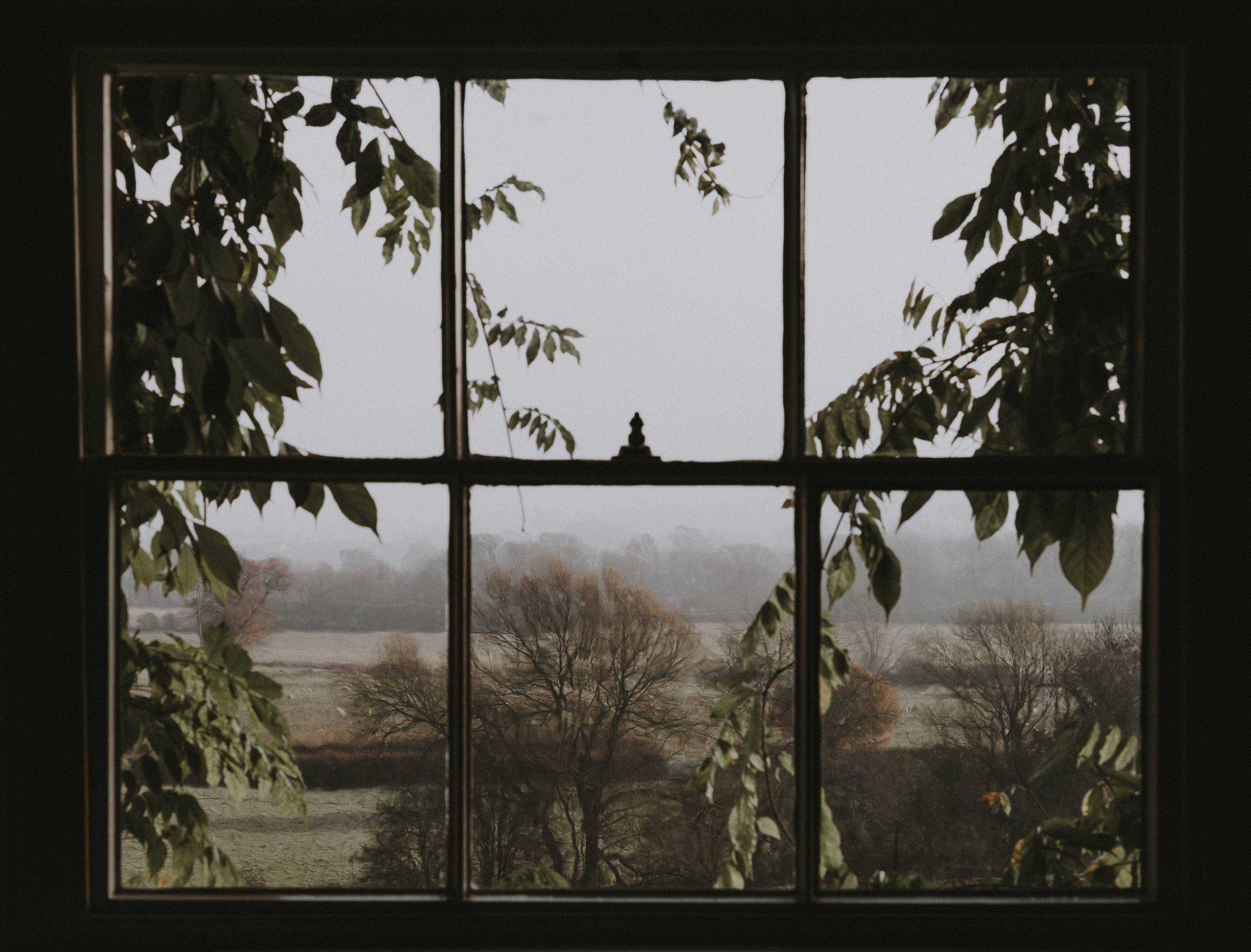 For Leila, fall is her most favorite season to knit! She says, "There's really nothing I enjoy more than knitting on a quiet morning before the sun comes up, with a hot cup of coffee and my cat, Bubbles, by my side." Leila tends to knit ahead, working on the things she'd like to wear in the fall throughout the summer. "So when September hits, I switch into gift knitting gear for the holidays." She loves the chunkiest of yarns—like Wool and the Gang's Crazy Sexy Wool and Rowan Big Wool—for quick-to-knit gifts. Last year, several Super Quick Hats flew off her needles!
When autumn arrives, Lisa likes to switch over to smaller projects "in hopes of getting holiday gifts done in time." Warm pairs of fingerless gloves and snug hats are on her list—"I always make a hat for my husband. He loves the Boyfriend Watch Cap!" For herself, she's adding a warm layer to her wellies with a pair of Cozy Boot Cuffs.
For Sally, fall knitting involves a little bit of everything. She says, "I seem to be having trouble wanting every new thing I see!" She currently has a Longstocking Muffler in Regia 6-Ply Color on her needles. To follow, perhaps Jared Flood's First Raglan Sweater in Brooklyn Tweed Tones or something cozy in Rowan's new Felted Tweed Colour ("I love the brown, rust, teal, and green colorway!")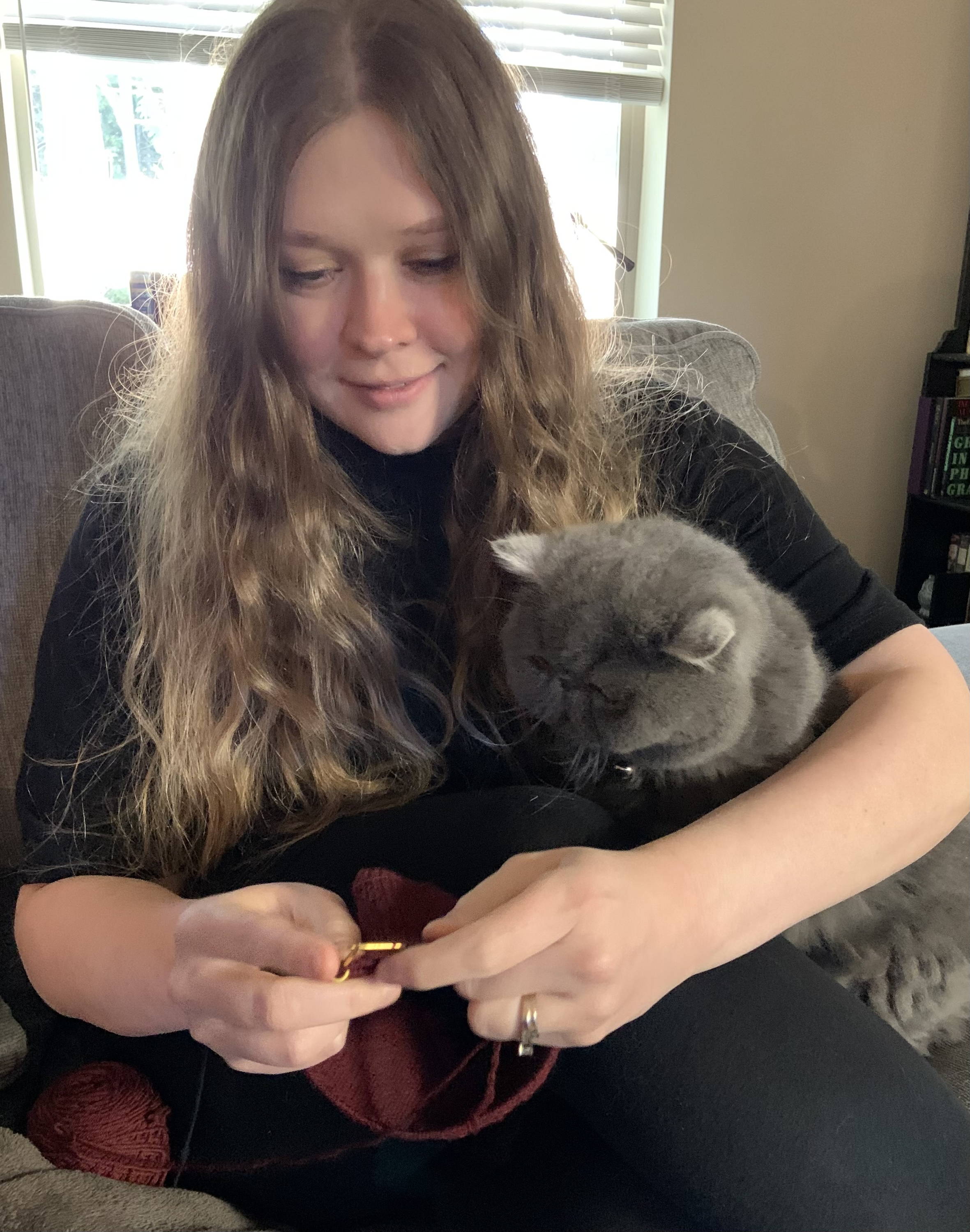 Bubbles closely observes Leila's stitches.
One of the best things about autumn is that we can start to wear our woolly sweaters! And, perhaps, cast on a new one. Leila is planning an Easy Relaxed Pullover in new Lang Cloud. "Its name really says it all!" she writes. "It's soft, floaty, and light, and self-stripes every two or three rows. I already have my color picked out!"
Carolyn is also pretty enamored with Lang Cloud and has a cuddly sweater planned, too—the Everyday Pullover. "Lang describes Cloud as a color explosion, and it is!" she says. "As I knit, I just let the yarn have its way. It was such a simple and addictive knitting experience."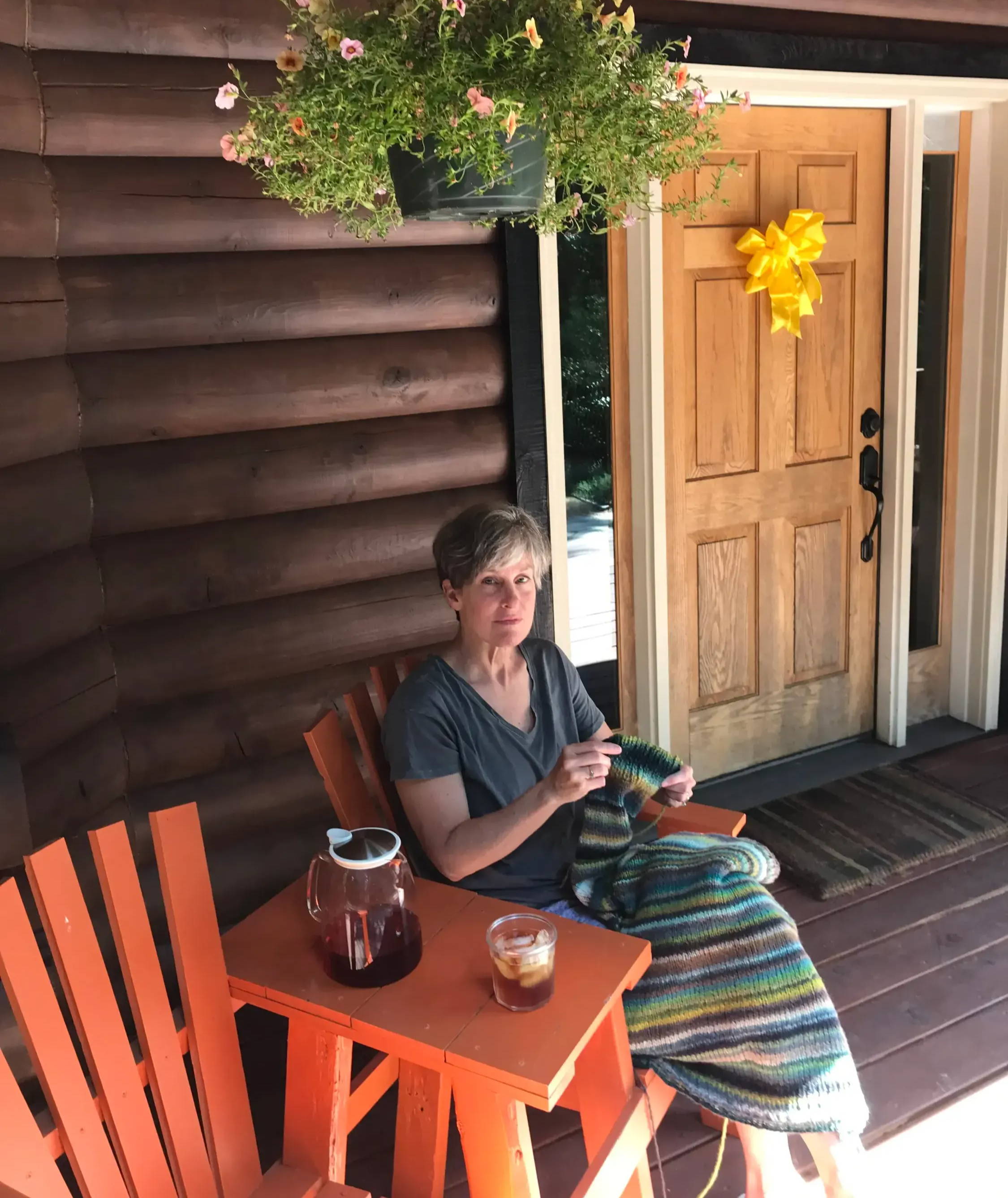 Carolyn enjoys knitting on her porch, with a glass of iced tea nearby!
After the warmth of summer has faded, we can't wait to get our hands on some good ol' fashioned woolly wools. Carolyn says, "The tactile experience of knitting with cotton or linen in the summer always makes me want to knit with wool. It's a more soothing experience for my hands!"
Stella is pulled towards woolly, tweedy workhorse yarns like Tahki Donegal Tweed and Brooklyn Tweed Shelter. "I'm starting to dream about a Saddle Shoulder Pullover," she says, "or a big, cabley jacket!"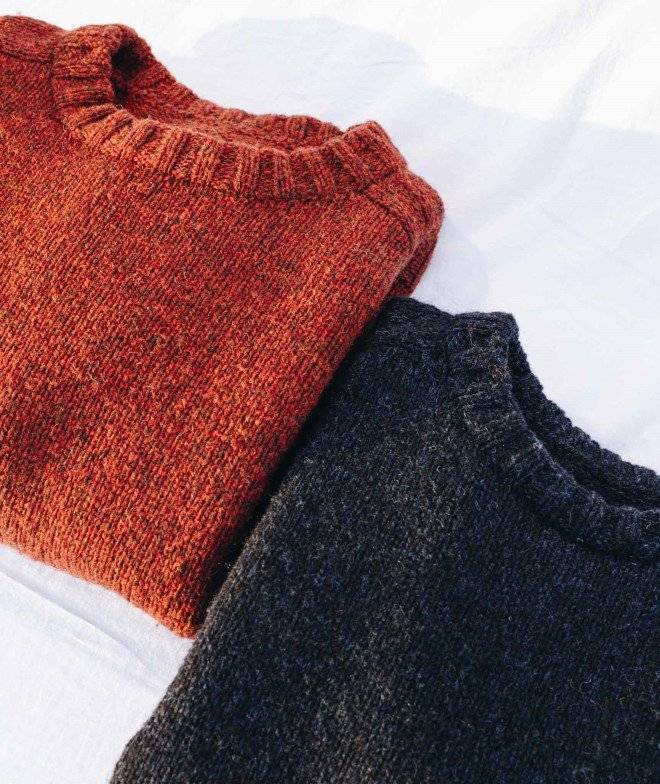 In the fall, Daniela loves to hunt for mushrooms in our Pacific Northwest woods. While looking for chanterelles, hedgehogs, turkey tails, and chicken of the woods (all mushrooms!), she keeps her hands warm with cozy little handwarmers—the Reversible Knitting Mitts were easy for her to whip up before the hunt began!
Carolyn's husband is an avid birdwatcher "who is always cold!" To keep him warm on his ornithological treks, she's planning a Windy City Cap in Brooklyn Tweed Tones or Shelter. "For a second one," she says, "I'll use Berroco Ultra Wool (as insurance for the son who shrunk his last Boyfriend Watch Cap in the dryer." It's happened to all of us—so it's nice to have a superwash yarn like Ultra Wool around!
Every morning, year 'round, Lauren goes for a walk on the beach with her dog. "In the fall, the wind blowing straight down the Sound can get pretty sharp," she says, "so I really rely on cuffed caps, like the Ribbed Watch Cap, or hats with double-thick fabric." She's working on a Studio Beret using Rowan Felted Tweed held double and fuzzed up with a strand of Shibui Silk Cloud (found while raiding her mom's stash).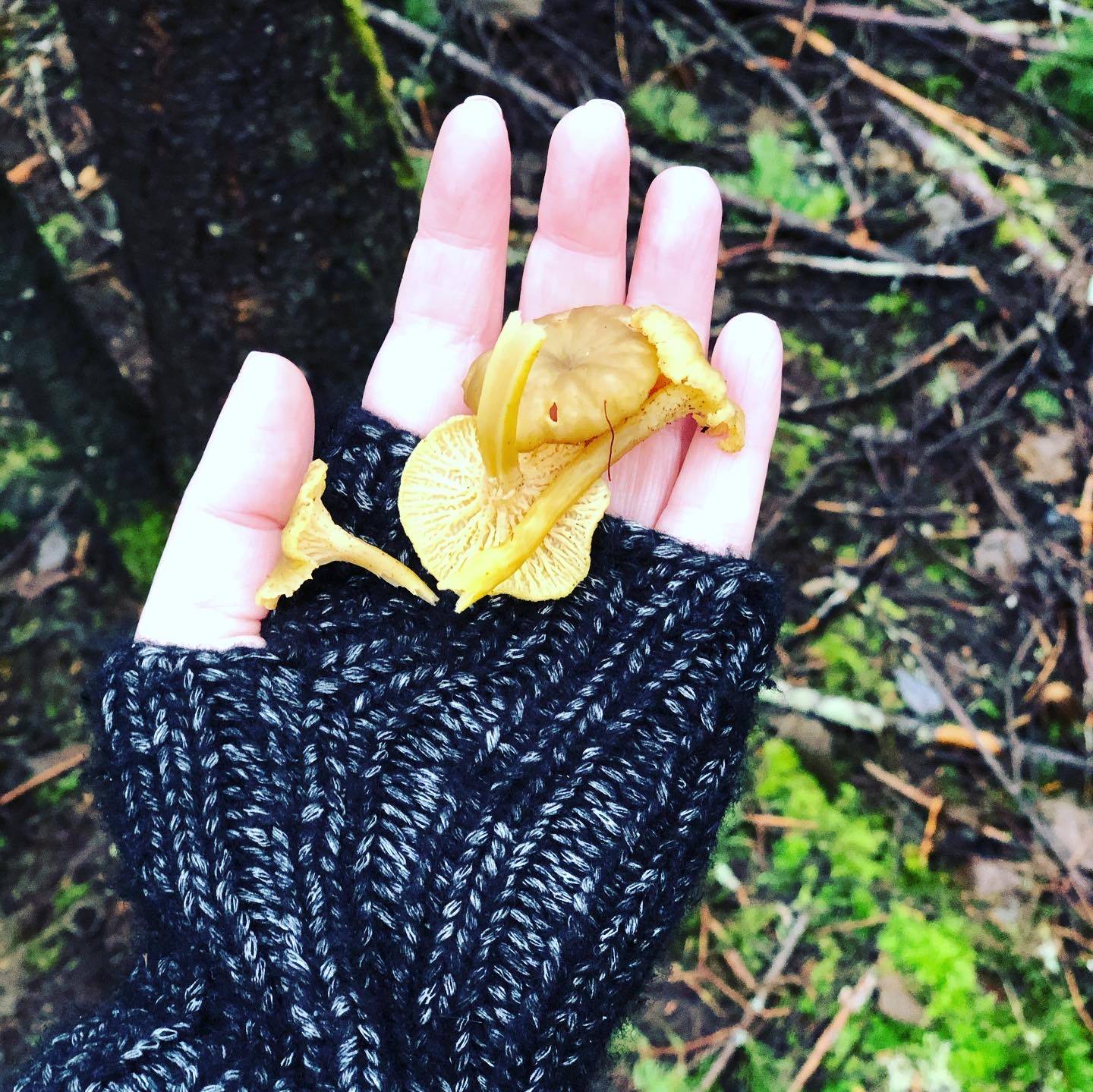 Daniela's handful of yellowfoot chanterelles!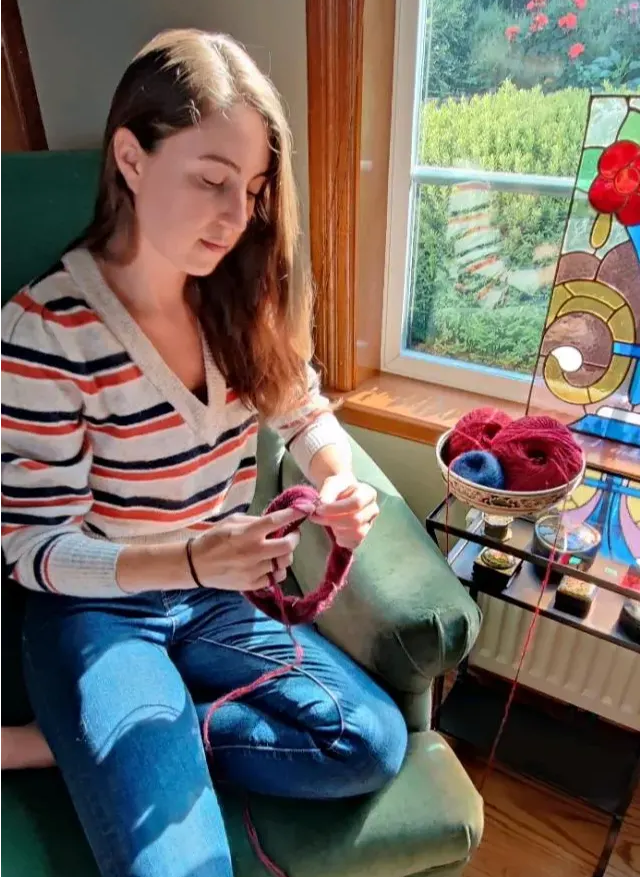 Lauren seeks out sunny knitting spots whenever there's a break in the clouds.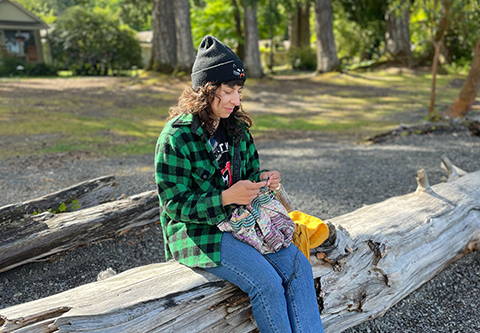 Alison enjoys her project on the shores of Lake Crescent.
With the days gaining that little, brisk bite, we've reverted to serving our tea nice and hot! For John, that means he's headed back to black—teas, that is.
He writes, "I'll put a splish (less than a splash) of whole milk into our amazing Assam, but all the others I'll have clear. I'm a fan of our Canadian Breakfast (blended in Toronto) because it's got less of a bite than the English or Irish; it's less in your face, more willing to compromise—you know, like a Canadian.
Also, I'm really into our new Bainbridge Brunch. I'm not usually drawn to flavored teas, but this has just the slightest whiff of jasmine and bergamot that makes it appealing to me. All said, those who know me know my mantra: 'China Black, all day, everyday.' Can't live without it!"
There's always a cup of tea on John's work desk.
The creative endeavors of our staff do not stop at making with yarn or brewing cups of tea—Nate, our web developer and designer, is a talented bookbinder! As a self-proclaimed "lifelong, obsessive lover of books," he began to teach himself the basics of bookbinding several years ago and now has his own company.
"Back before the Industrial Revolution," he says, "people would buy books in loose, unbound pages, then bring them to a bookbinder to commission a binding that was as simple or luxurious as their budget allowed. I've always loved that idea, and my aim is to provide a similar experience for my clients."
Nate's books are all meticulously hand-bound works of art, which he crafts over the course of several months—stitching pages together, coloring or gauffering the page edges, and adding intricate tooling to the covers. See more of his work by visiting the McCall Company webpage!
This is Nate's version of the classic 'Scottish Wheel' binding.