Our staff is sharing a few of their favorite drinks recipes from years past! Whether your tastes run to steamy or fizzy, these beverages are sure to spark your holiday spirits. Try a deliciously spiced chai, an uplifting elixir, a foggy concoction, a sparkling cocktail, and a bedtime brew. Cheers!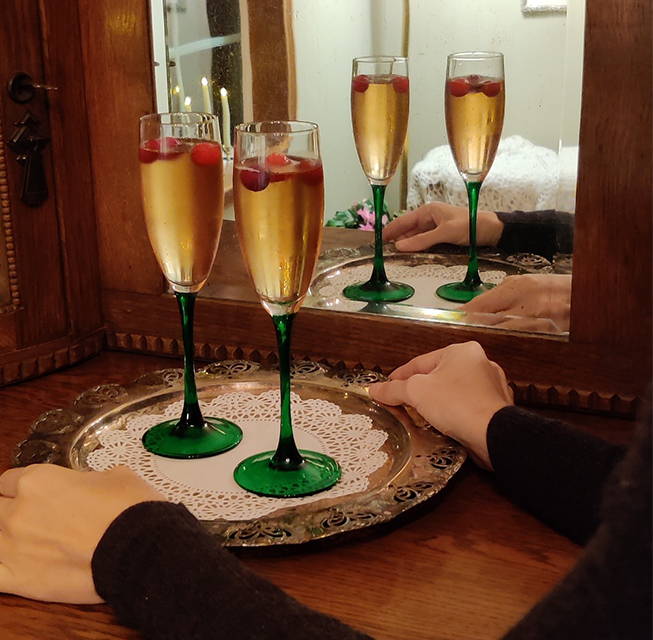 Kit's first love is black tea with milk, no sugar. "So when the holidays roll around," she says, "and I want a little spice, a masala chai is perfect." Thinking of festive gatherings with friends, Kit doubled a favorite chai recipe from several years back. It makes a nice big batch you can share (6-8 servings). Or keep it all for yourself! Bring what's left in a thermos to work or on your walk, or save what's left in a jar in the fridge; it's delicious over ice or reheated.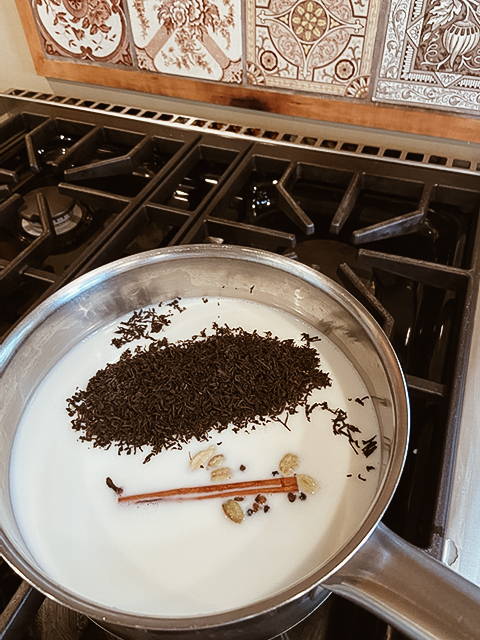 4 cups water
4 cups milk
(We like whole milk; you can play with soy, oat, almond . . .)
1 slice fresh ginger (or several slivers candied ginger)
1 cinnamon stick
6 green cardamom seeds
10 black peppercorns
4 whole cloves
6 heaping tsps black tea leaves
(We love Ceylon and/or Assam.)
2 Tbsp sugar or honey, or to taste
Pour water and milk into a medium saucepan. For a little more spiciness, lightly bash ginger, cardamom, pepper, and cloves with back of a broad knife; add to saucepan. Add cinnamon stick and tea leaves. Bring to a boil and simmer for 10 minutes, stirring occasionally. Add sugar or honey and stir; or let guests sweeten to taste (Kit likes it plain; John like double honey!). Strain and serve.
Dark and rainy days become more and more common as our Pacific Northwest fall begins the slow fade into winter. On particularly gloomy days, Leila likes to brew up a drizzly day favorite—"super yummy and a great, warm treat." This recipe takes advantage of a soothing rooibos tea with a few other invigorating ingredients. Leila says, "Ginger gives it a kick, honey a sweetness, and cranberry juice provides just the right amount of tart!" Since it's caffeine-free, you can enjoy the 'Rooibos Ginger Elixir' all day long. And if you're in a warmer climate or are looking for a refreshing bevy come summer, it's great iced, too!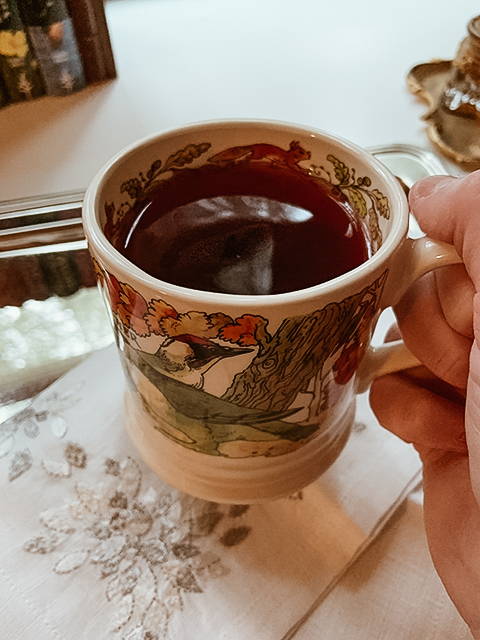 4 sachets or 4 heaping scoops of rooibos tea
(Leila used Red Nectar from Smith Teamaker, or try our Rooibos Ginger bulk tea.)
2 cups water
Approx. 1 Tbsp fresh grated ginger
2 Tbsp honey (Leila chose Bee Local Blackberry Honey)
2 cups cranberry juice
In a saucepan, bring water to a boil. Add rooibos and ginger; stir. Steep for 10 minutes. Stir in honey. Strain into a teapot, pressing firmly on tea and ginger. Add cranberry juice and serve warm. Keeps in fridge for up to two days.
John wanted to experiment with turning our 'Dublin Fog' recipe (our take on a London Fog, combining steamed milk, our bulk Irish Breakfast tea, and vanilla simple syrup) into an adult evening warmer. "Add a splash of Jameson, and you're off to the land of James Joyce!" Next, he wondered if our Bainbridge Brunch blend (with its whiff of bergamot and hint of jasmine) would match up to that. "I followed the recipe below and . . . stop the presses! What an elixir! How would it perform with a bit of gin?" He added a tablespoon of award-winning Bainbridge Gin and it did not go amiss!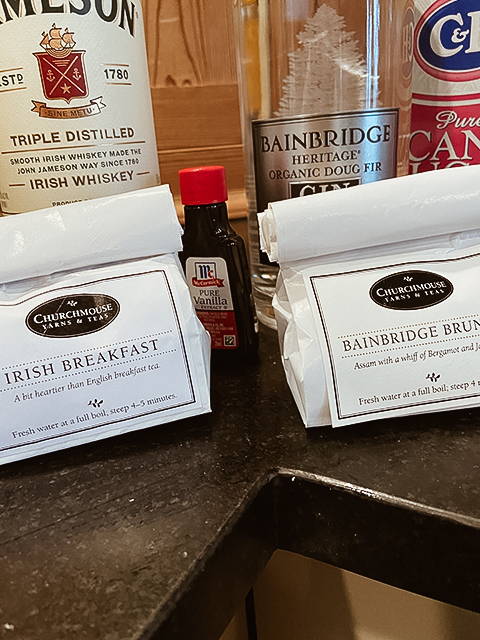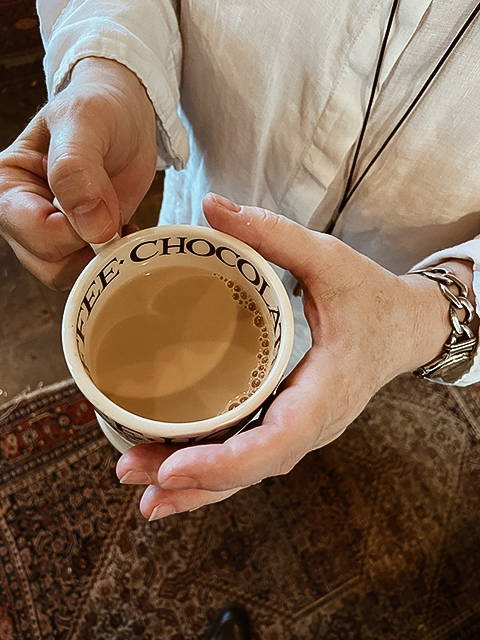 ½ cup water
½ cup whole milk
1 tsp Bainbridge Brunch tea leaves
2 ½ tsp vanilla simple syrup (or more if you've got a sweet tooth, see instructions below)
For each serving: combine water and whole milk. Bring to a boil, or steam. Stir in tea leaves and steep for 5 minutes. Strain into your favorite mug and add vanilla simple syrup to taste.
---
1 cup water
1 cup granulated sugar
¼ tsp vanilla extract
In a small saucepan, combine water and sugar. Bring just to boil, let cool, add vanilla. Yields about 1 ¼ cups. Store refrigerated up to 6 months. Add to any beverage for a simple touch of sweet that stirs in like a dream.
Thanksgiving through New Year's Eve, Lauren and her mom love to celebrate the holidays with sparkling cocktails. "A couple bubbles in a pretty glass makes any evening feel special!" Lauren says. Modeled after a Kir Royale, a champagne cocktail that features crème de cassis, this recipe replaces the liqueur with a tea-based simple syrup. Our original 'Holiday Kir Cocktail' plays with a few favorite brews from Harney & Sons (always delightful). For this version, Lauren went off-piste and used Smith Teamaker's Big Hibiscus—"it tastes delicious and the color is perfectly festive."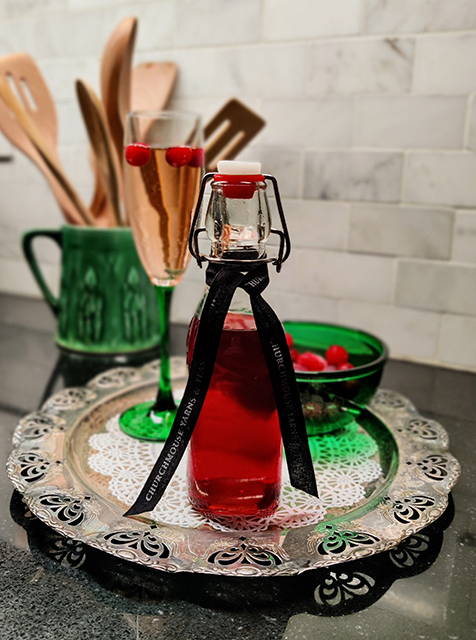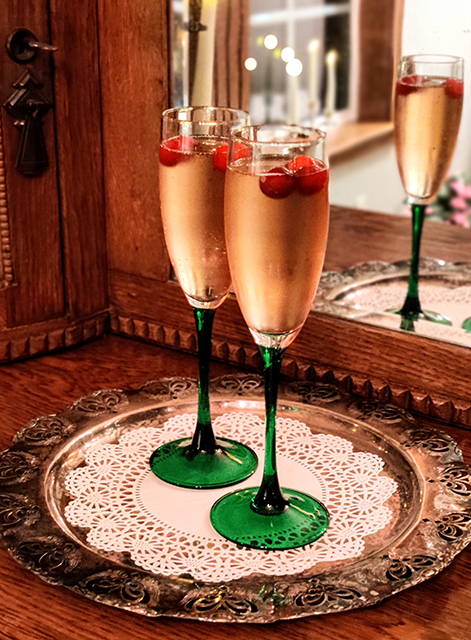 3 sachets of your favorite tea
(We've tried Harney & Sons Celebration & White Christmas teas, Lauren used Smith Teamaker's Big Hibiscus.)
1 cup boiling water (not quite boiling for White Christmas, it's a little more delicate)
4 Tbsp sugar
Steep 5 min for Celebration Tea and Big Hibiscus, 4 min for White Christmas. Remove sachets, stir in sugar, let cool. Add 1 tsp tea syrup to flute, top up with your favorite chilled bubbly, and drop in a fresh cranberry. Santé!
A little bedtime routine helps us to relax and have a restful sleep after a busy day. We like to brew this super easy little nighttime-friendly drink—both the ritual of warming the milk and the gentle minty taste help us to wind down. It's become a family favorite for Matt, Laura, and their kiddo, Arlo. "So simple and so soothing!"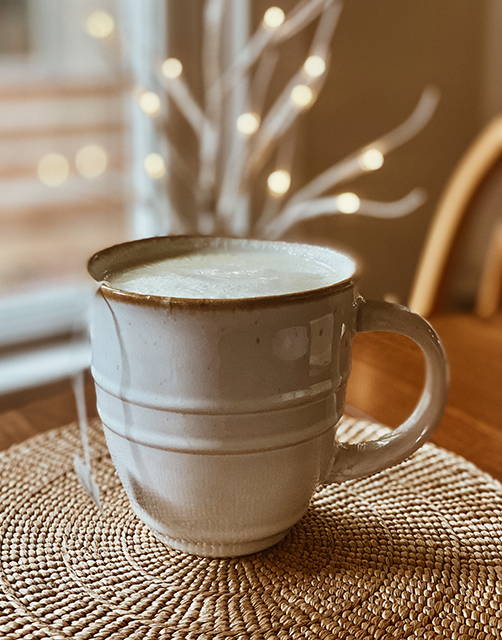 Heat milk 'til not quite boiling. Pour into a pretty mug over one sachet of Smith Teamaker's Peppermint Leaves. Steep for 3 minutes. Leave the teabag in while you sip, if you like for more minty-ness.
Sweet dreams!