At once nostalgic and timeless, hand-knit lace always seems to prompt a gasp of delight or an oooh of admiration (or both!). From simple lines of eyelets to intricate leaves and delicate, arrowing mesh, we've been fascinated by every lace motif we've tried. The romance of a lace shawl, the playfulness of a pair of lace mitts—lace is just so gosh darn pretty!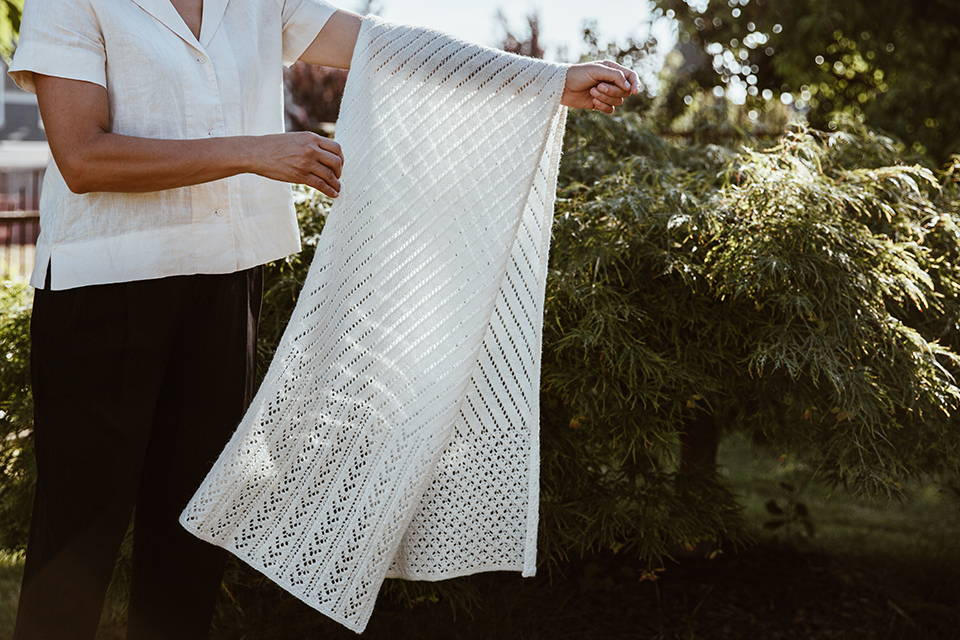 In her book, The Craft of Lace Knitting, Barbara Walker wrote, "Lace knitting is justly called the 'height of the knitter's art.'" There's certainly more than enough history and variety, creativity and artistry in lace knitting to confirm that lofty position! However, we hope that's not too intimidating. At Churchmouse, we've aimed to make our lace projects accessible and aspirational. Each of our patterns includes helpful tips and little tutorials to guide you through the steps with which you may be unfamiliar. And we can steer you towards beginner-level projects that'll get you started and whet your appetite!
We've also played around a little with what 'lace' can mean. Why, even simple garter-stitch can look lacy, if knit at an open gauge and in a fine yarn! Or a more complicated motif can become a quick knit when made in something fluffy or chunky.
In the simplest possible terms, a lace motif is created by adding artful 'holes', or eyelets, to your knitted fabric. That's generally accomplished through a series of yarn-overs and decrease stitches (which compensate for the stitches you're adding with the yarn-overs). Arrange these yarn-overs and decreases in a repeating pattern—flowing vertically, horizontally, or diagonally—and you get a lace pattern. The possible patterns and motifs are near infinite; geometric and floral, simple and intricate. You can find books and books of lace stitch patterns with thousands of different variations! We love to explore these treasuries—each page is filled with inspiration.
When designers create a lace pattern, they may write the instructions out, guide you with a chart, or both. In a way, charts can show you the essence of a lace pattern—they map out each stitch in a grid and use a legend to explain which symbol means which type of stitch to use. They're a great, visual alternative if you find written instructions a little overwhelming. In Churchmouse Classics lace patterns, we generally like to include both text and a chart—so you can follow along in the way that you like best. Highlighter Tape (easy to stick, unstick, and restick) is helpful when it comes to marking your place, both in the text instructions and on the chart!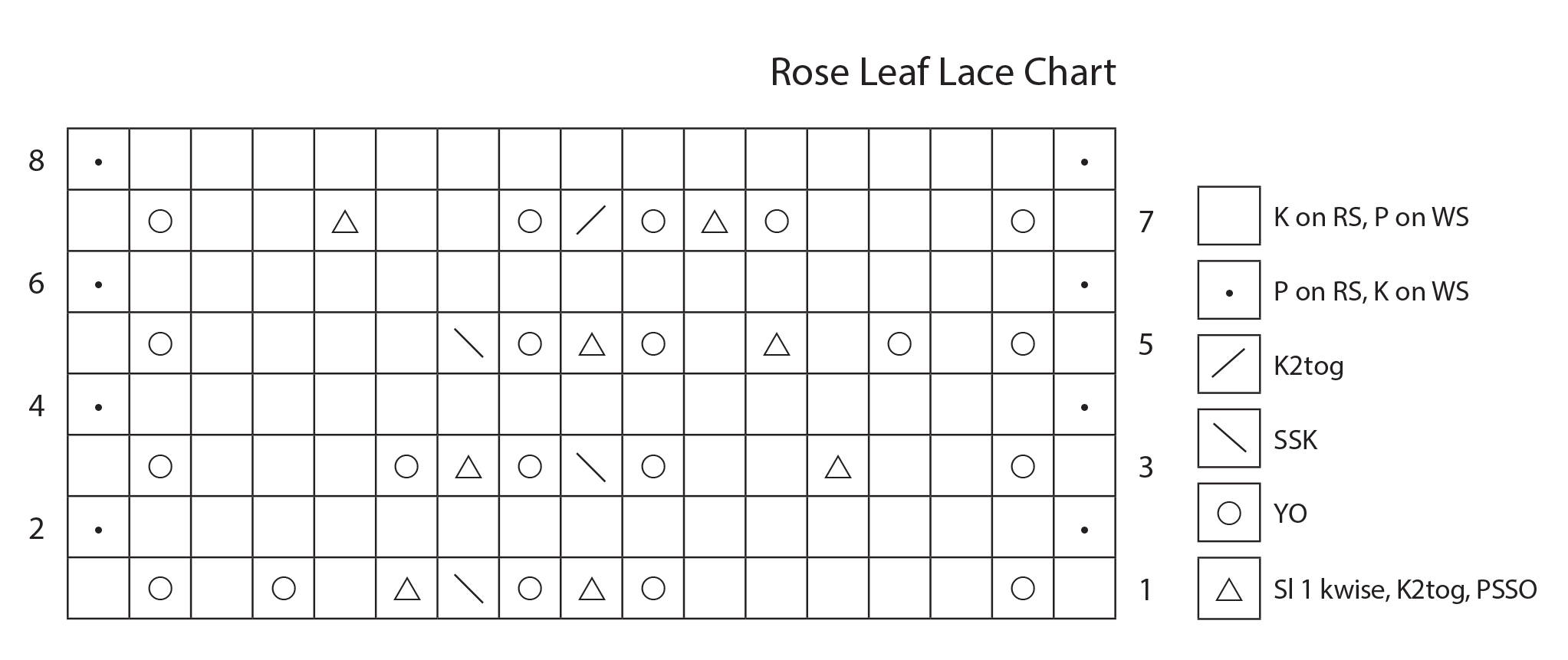 Rose Leaf Lace insert: 8-row repeat
Row 1 (RS): K1, YO, K5, YO, (Sl 1 kwise, K2tog, PSSO), YO, SSK, (Sl 1 kwise, K2tog, PSSO), (K1, YO) twice, K1.
Row 2 (WS): K1, P15, K1.
Row 3 (RS): K1, YO, K2, (Sl 1 kwise, K2tog, PSSO), K2, YO, SSK, YO, (Sl 1 kwise, K2tog, PSSO), YO, K3, YO, K1.
Row 4 (WS): As Row 2.
Row 5 (RS): (K1, YO) twice, K1, (Sl 1 kwise, K2tog, PSSO), K1, YO, (Sl 1 kwise, K2tog, PSSO), YO, SSK, K4, YO, K1.
Row 6 (WS): As Row 2.
Row 7 (RS): K1, YO, K3, YO, (Sl 1 kwise, K2tog, PSSO), YO, K2tog, YO, K2, (Sl 1 kwise, K2tog, PSSO), K2, YO, K1.
Row 8 (WS): As Row 2.
It's important to the success of your project that you learn how to read your pattern's text and/or chart. But most important is that you learn to read your knitting! Watch which way your decrease stitches are 'leaning' and how your eyelets are stacking up. Then, you'll be able to recognize and anticipate where they're going next and get into a good rhythm without constantly referring to your pattern.
Lace patterns look their prettiest when knit in yarns that instinctively keep their shape. You want your yarn to be able to hold your stitches 'open', so that you can clearly see that lovely pattern. We've used a range of different yarns to knit our lace projects—from sleeker plant fiber blends to crisp wools, soft alpaca, smooth cashmere, and delicate mohair-and-silk blends.
Knit in a delicate, lace-weight mohair-and-silk blend—like Rowan Kidsilk Haze or Shibui Silk Cloud—lace becomes frothy and ethereal. The gentle mohair halo that surrounds the glimmering silk core helps your stitches to keep their shape, while softly blurring the pattern. In these blends, lace has a gravity-defying weightlessness and barely-there warmth, an excellent multi-season choice.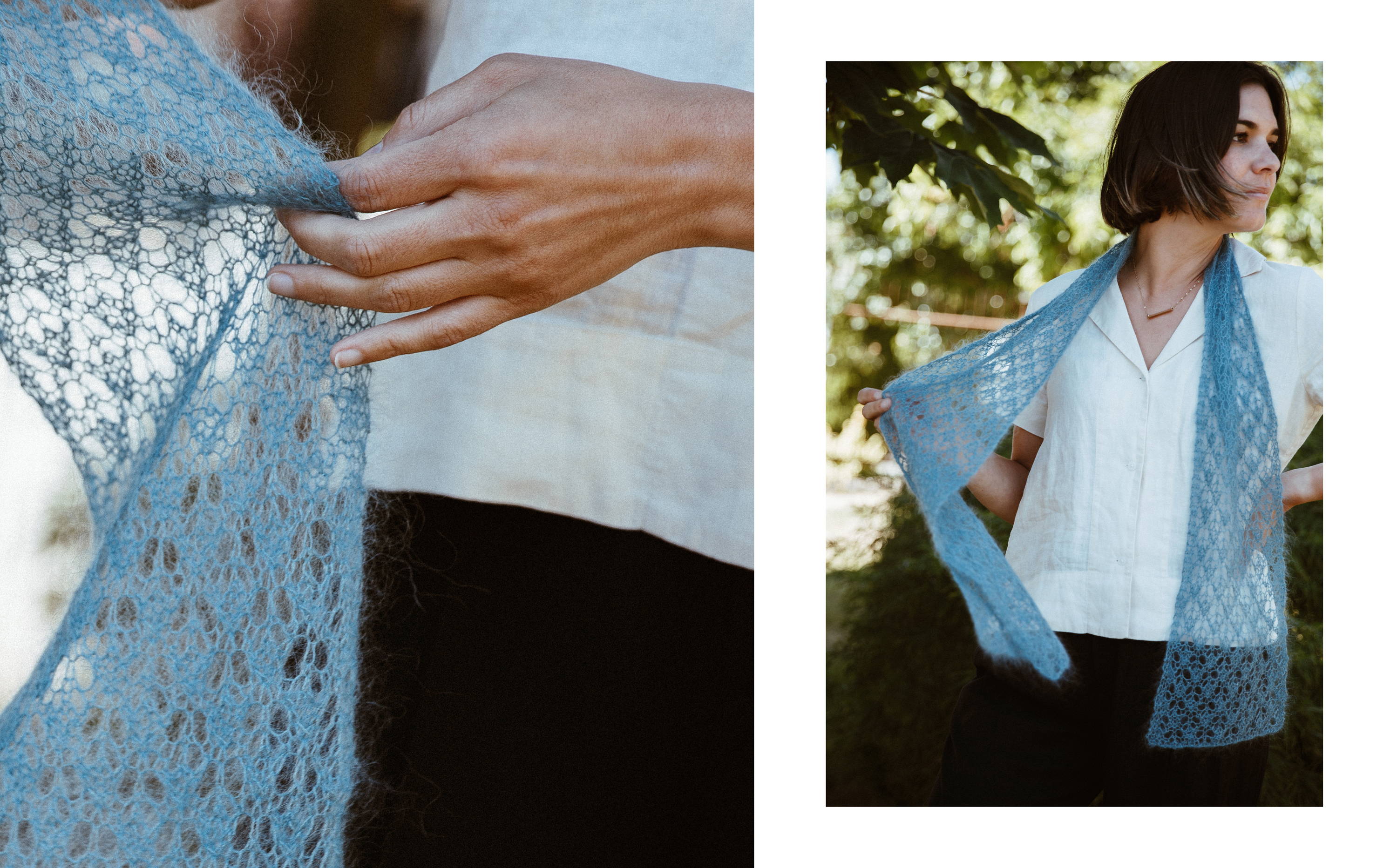 Wool, Alpaca, & Other Blends
Wool, alpaca, and other animal fiber blends (like cashmere!) are lace knitting classics. We choose yarns like Isager Spinni Wool 1, Alpaca 2, and Rowan Alpaca Soft DK for so many of our lace projects because they provide such great structure and memory to your stitches. A blend of wool and alpaca will keep your lace nice and lacy—it brings you the bounce and stitch definition of wool and the soft suppleness of alpaca. Plus, it's so cozy to wear!
Plant fiber and plant fiber blends—like Shibui Reed, Hemp for Knitting allhemp6, and Isager Bomulin—bring gorgeous drape and crisp stitch definition to lace scarves and wraps. With these yarns, there's a great balance of slinkiness and structure, so your stitches won't collapse away and hide your pretty motif. Plus, linen, cotton, and hemp are all hardy fibers that wear well—so your lace will be nice and strong, no matter how delicate it looks!
We've loved to experiment and combine different yarns with different lace motifs—and we'd like to encourage you to do so as well. Swatch away! In fact, always be sure to knit a swatch for your lace project and block it before you begin. Lace can look a little strange as you knit it—maybe even a little ugly! But don't be discouraged. Most motifs and yarns will transform radically with a good blocking under some tension (our Swatching Wires, Fork Blocking Pins, and T-pins may be helpful here). The 'before & after' can be pretty magical! Remember to let your blocked swatch rest for a day or two to test if the yarn bounces back and loses gauge. (This can happen with more elastic yarns or yarns containing nylon.) Swatching (and blocking that swatch) is a nice way to get to know the lace stitch, and to reassure yourself that it really will be beautiful!
If you're new to lace, we have just the bite-sized project to get you started: our Lace-Back Fingerless Gloves. We love these cute mitts because they give you the perfect little taste of lace. Our Churchmouse Classics pattern includes three different lace motifs with varying degrees of difficulty—so you can begin easy and then work your way up. Plus, the pattern asks for a sport- or DK-weight yarn, so they're a fairly quick knit and it's easier to read your stitches!

If you're ready for a bigger project, but would still like to keep the knitting fairly simple, try the Diagonal Lace Scarf & Wrap. Effortlessly elegant, the lines of eyelet lace in this generous scarf are straightforward to knit, even as they angle across the rectangle shape. You'll get used to those yarn-overs and decreases in no time!
Next, try your needles with the English Mesh Lace Scarf. While it make look a little complicated, the four-plus-four row repeat and centered stitch alignments are easy to see and follow. We think it's a great pattern for learning to see your lace fabric in relation to a chart.
If you've already dabbled in lace knitting or are a confident beginner, our Lace Sampler Scarf may be a fun project for you. Through this pattern, you're introduced to three of our favorite lace motifs—the 'English Mesh', 'Diagonal Lace', and 'Van Dyke' patterns. They've all shown up in other Churchmouse Classics lace projects and they're each accessible, absorbing, and fun! Plus, all three are accomplished in multiples of six stitches, so each motif flows nicely into the next and—if you're a little more ambitious—you can easily size the scarf up or down as you like.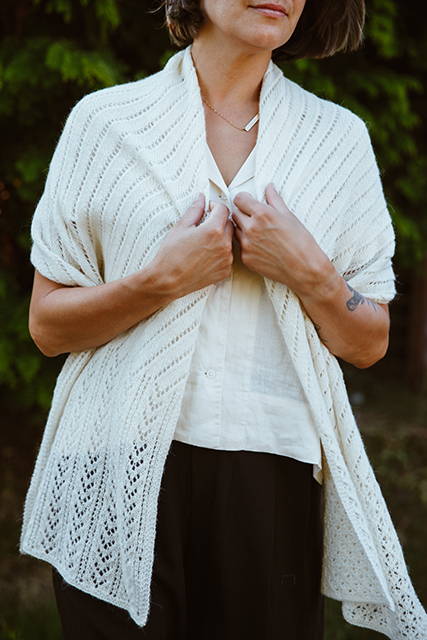 The Tea Leaf Lace Scarf & Shawl are Churchmouse favorites (perhaps because of the association with our favorite drink, perhaps because it's so lovely). That leafy pattern is deceptively intricate—actually, the clues in the knitting are quite easy to read! We start the scarf and shawl at the middle, using a provisional cast-on, and then work out to both ends. This little design trick will make the leaves face the same direction on either side.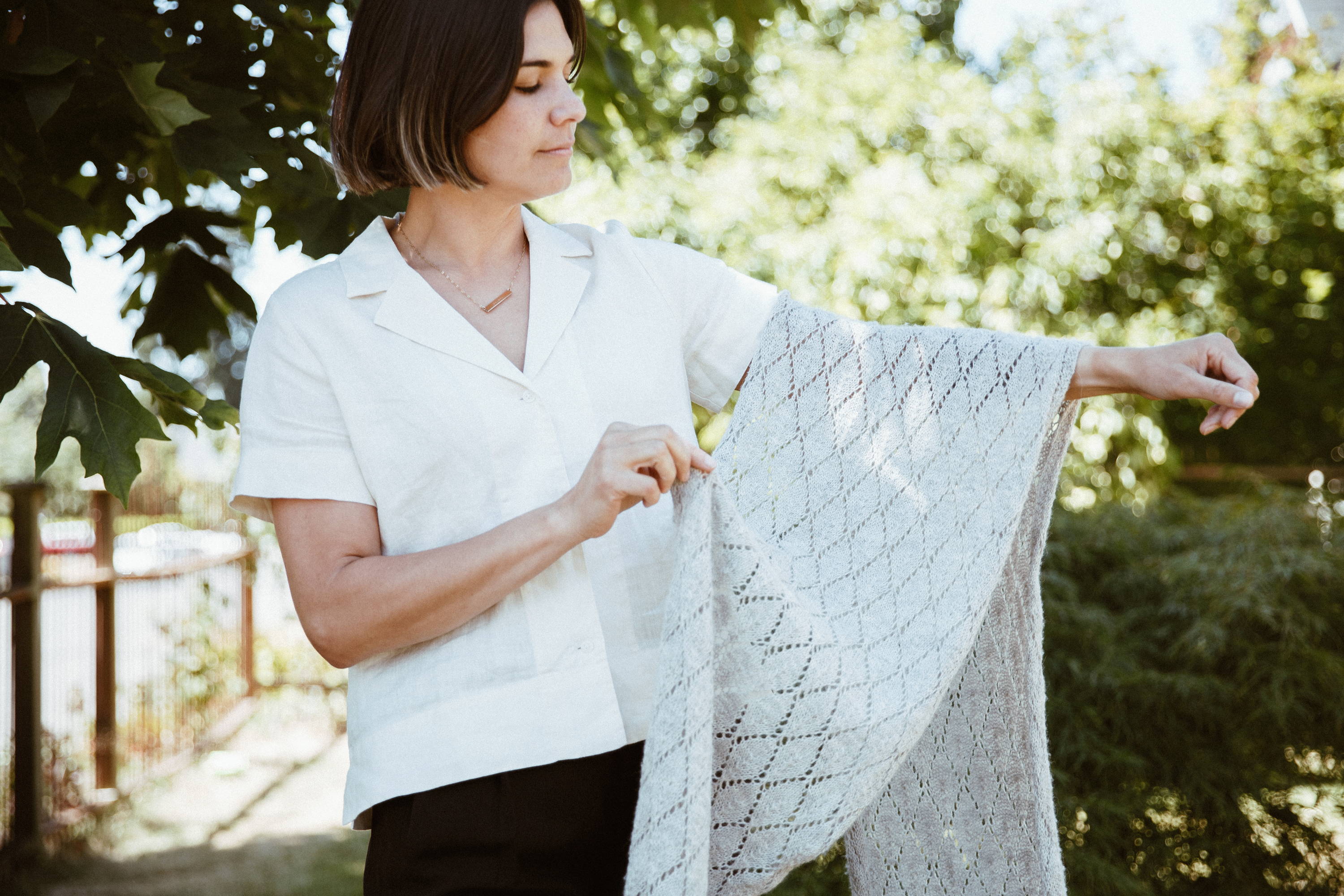 Finally, if you're ready to graduate from rectangle shawls, how about a lacy garment? Our Boxy Lace Tee has a simple shape and a very fun lace pattern. It's knit at a DK-weight gauge, so you'll see its diamond motif unfurl clearly and fairly quickly. And we like the juxtaposition of a modern, boxy shape with the lace motifs knit on a slightly grand scale!
With these lace projects, and every lace project after, may you have fun making holes in your knitting on purpose.