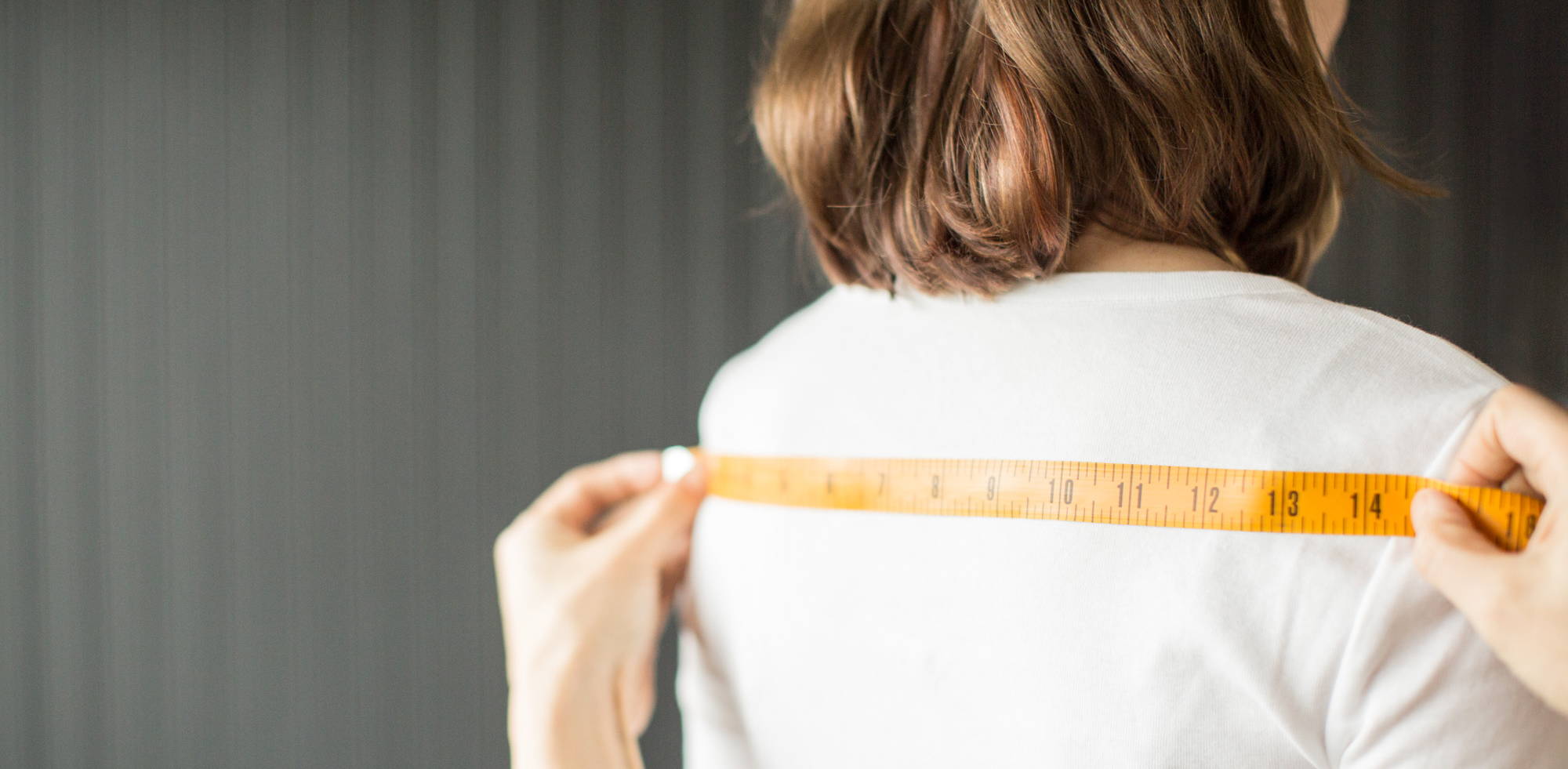 This season, we'd love to explore the life cycle of a project with you—starting with good choices, through the doing (and learning phase), to a successful finish. We'll be sharing these tips and techniques with you here, on our website. Let's be 'beginners' together.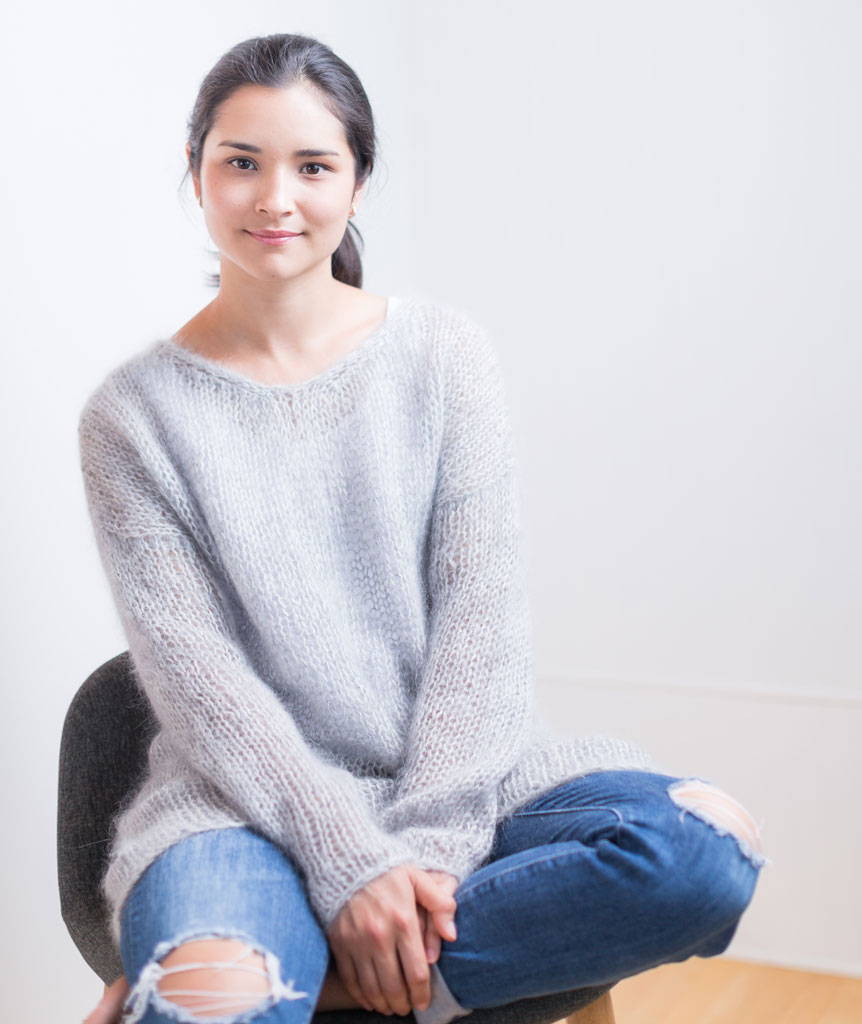 Before you start knitting a garment, you need to choose a size to knit! And to make an informed choice, you'll need to gather an essential bit of knowledge: a set of recent measurements. We know—measuring ourselves is a step we all tend to avoid. It's awkward. It can make us feel self-conscious. Nevertheless, in order to make sure that each hand-knit garment fits you the way you want it to fit (and is therefore worth the time you spend knitting it!), compiling a set of accurate measurements is imperative.
Your ideal size hovers at the intersection of fit and style—between the practical (your measurements) and the personal (your own unique flair). These two components come together in what's known as 'ease.' Ease is the difference between a garment's measurements (usually found in the pattern's sizing schematic) and your own measurements. Ease helps you understand how loosely or tightly a sweater will fit you. A sweater designed with generous positive ease is bigger in circumference than the wearer. It will be loose and comfortable—like our Slouchy Pullover. A garment with negative ease is smaller in circumference than the wearer—think something that you'd want to stay snugly in place, like a hat.
With your measurements, you can discern which numbers on a sweater schematic apply to you and calculate how much ease you'll get with any given size. Your measurements will also be a good starting point for any customization you'd like to do.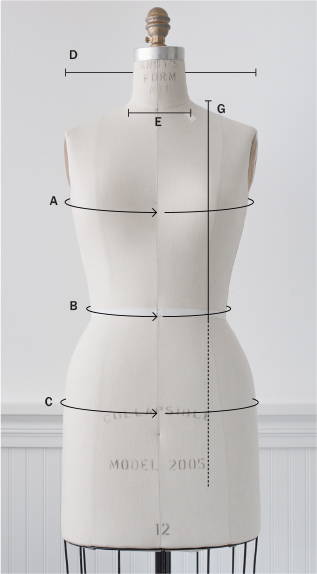 Gather a few useful tools—a soft, but sturdy measuring tape, a pencil, our Measuring Worksheet, a mirror, and a good friend for the hard-to-reach spots—change into a fine t-shirt or camisole, make note of the date (since these numbers can change) and get started! We're here to help you figure out which measurements are the most helpful.
For sweaters, you should know three basic measurements:
[A] Bust: Start by measuring around the fullest part of your chest, making sure that the measuring tape doesn't droop in the back. (Ladies, your bust measurement is not the same as your bra size. There's a bit of extra math involved with that one! When measuring, be sure to wear the bra that you would usually wear with a sweater.)
[B] Natural waistline: This refers to the smallest part of your midsection—where your hands naturally want to rest when you strike a Wonder Woman pose.
[C] Hips: Measure around the fullest part of your hips. This is generally below your hip bones and includes around your buttocks.
Alternatively, measure a few of your favorite sweaters. If you love the way they fit—and the gauge is in the same ballpark as the new sweater you'd like to knit—take their measurements from high shoulder to hem.

These next measurements promise to help you get a nice, precise fit. They come into play when it's time to customize the body and sleeve length of your sweater, and can make a lot of difference in the end. These measurements are a little harder to reach, so you might want to enlist the help of a friend.
[D] Shoulder width: Measure across your back, from shoulder tip to shoulder tip (find the bone that rests towards the back of the shoulder).
[E] Neck width: Measure from one corner where your neck meets your shoulder (the high shoulder) to the other.
[F] Back waist: This stretches from the bump at the top of your spine, to your natural waist.
Note: You'll also want to measure your arm length [not shown] from the center of your back, around your shoulder, around your slightly bent elbow to your wrist bone.
[G] Desired length: Finally, determine how long you'd like your garment to be. Measure from the high shoulder to where you'd like the hem of your garment to rest. Maybe you'd like a cute and cropped sweater, with the hem stopping at your natural waist. Or maybe you'd prefer a long, tunic length that's perfect worn with leggings. Or both! Record several measurements at several lengths—just in case. That way, you have the numbers you need whenever your personal style changes!
Once you know your measurements, you'll be able to see at a glance which size sweater to knit, how much yarn you'll need, discover how much ease any size will give you, and know just how to customize your project so that it fits you best. You can take any Churchmouse sweater pattern and make it your own!