As its name suggests, this simple embellishment technique duplicates the path of knitted stitches on stockinette fabric. A great alternative to Fair Isle or Intarsia, duplicate stitch mimics the look of stranded colorwork so you can easily add patterns and motifs without having to hold two yarns at once. Use it to add small details to knitted toys, or embellish an accessory with a simple design, or maybe there's a small mistake on a stranded project that needs fixing—no ripping back!
Use yarn of an equivalent thickness to yarn in main fabric to ensure it will properly cover the stitches being duplicated. Thread 1 yd/m of yarn onto darning needle (darner). Note: Short lengths of yarn will show less wear and will be easier to manage. Leaving 8"/20cm tail to weave in later, work steps 1–3 as follows: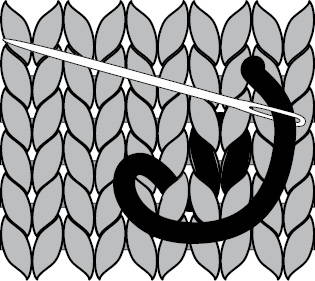 1. Bring darner from back to front of work through bottom of 'V' stitch; draw yarn through.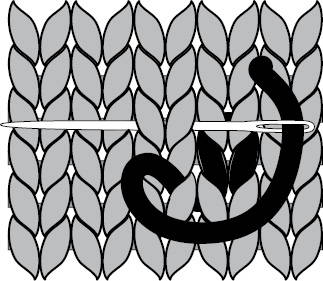 2. Insert darner behind both legs of stitch directly above and draw yarn through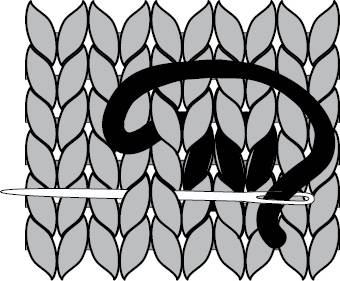 3. Insert darner to back of work through bottom of 'V' stitch where you started; draw yarn through. [1 duplicate st made]
Repeat steps 1–3 following your chart or pattern, working across the row (or along a column where necessary). Rethread darner as necessary. Note: Take care to match tension of duplicate stitches to original stitches so work isn't loose or pulled in. Weave in ends as invisibly as possible on wrong side. Block as directed in original pattern.
---
Here are a few of the ways we use Duplicate Stitch in our Churchmouse Patterns.
To create personalized stockings, we used duplicate stitch to embellish the cuff and leg with various motifs and designs. Try using a favorite Fair Isle pattern to guide your stitching.
Hot Water Bottle Cozy with Heart Motif
Here we used duplicate stitch to create a larger heart motif on the front of our cozy. Sketching on graphing paper is a fun way to design your own motifs. Note: Keep in mind when using graphing paper that actual knitted stitches are wider than they are tall.
We love the idea of adding monograms to projects, or in this case, a sweet message of hugs and kisses. Find inspiration from cross-stitch alphabet patterns to create your own unique message.
Super Quick Hat with Single Stitch Heart
One duplicate stitch is all you need with a super-chunky-weight yarn to create a simple, yet eye-catching, heart.